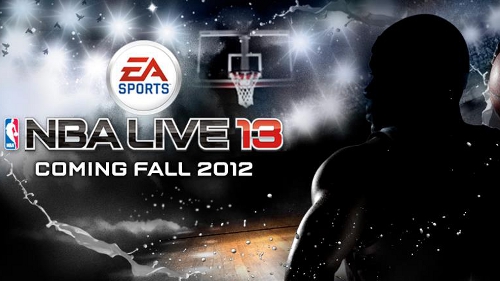 Having become the underdog after years of eroding the fan base with sub-par releases and the aborted attempt at a reboot EA Sports is attempting a comeback with NBA Live 13. It will be an uphill battle to reestablish credibility and grow sales – one that really can't afford blunders along the way. Despite that they've already made one warranting serious criticism. 
EA Sports achieved an effective splash leading into NBA All-Star Weekend simply by utilizing some players that visited the studio to play an early build who then spread word of its return through social media channels. The simple reveal of the name going back to Live and "The Future of Basketball" tagline created considerable buzz and early awareness. It probably caught some by surprise just how much excitement it all stirred up.
EA then encouraged fans to visit their Facebook page where the first news would come the following Monday. All that turned out to be was a publicized application process to attend what sounded suspiciously like a "community event". It shouldn't have been framed as game news and its relevance to the final product could even be called into question. They blew the momentum they had built just like that.
Having read the detailed rules for the "advisory council" it was very much an official contest. There were eight slots open with the "winners" – supposedly to be chosen based on the best 100 word pleas of why they would be an asset in providing feedback to the development team – receiving airfare, accommodations, meals, and other perks over a several day stay in Orlando at the Tiburon studio to be held in the very near future.
Today the company announced who "won" the contest! But the list of names reads largely like a roster of any past community event with just a couple unknowns mixed in. Ironically one of those chosen is already proving to have been a terribly poor selection in the comments on Facebook, and it appears he didn't read the rules which clearly defined the dates and is now saying he can't attend, but that isn't the issue to be discussed.
The criticism here isn't directed at any of the guys involved but instead the company which promoted this "council" as a way to involve fans passionate about the series by being part of the development process in a way that otherwise they would not have been. The repeat attendees may very well be the most beneficial people to bring in to the studio however that's because they're known commodities. It wasn't the spirit or the particular terms of the contest though. EA could have held a more standard event with them if they deemed it worthwhile. Given that it was an official contest – with legalities even involved – it's a legit complaint to make that EA falsely presented the terms and misled the public.
The idea to get fans engaged is a worthy one except when it's turned into a marketing stunt. The result here was a cheap way to get some consumers invested in the product months before release by leading them on with an opportunity many were sure to be interested in. EA stated they would be selecting applicants solely based on their responses when really all they planned to do was hold a typical community event but get extra promotional value out of it. In doing so now the hundreds or more who took the time to send in their entries were apparently deceived about their chances of winning – yet EA will see it as a net positive nonetheless considering they engaged them this early on and now they'll likely be following their marketing efforts over the coming months.
This is a borderline insulting development and one that does not bode well for how EA Sports plans to rebuild trust in the consumers that supported their product over the years while attempting to capture new fans in the process. They are showing desperation and a willingness to stoop to a low level in order to generate additional interest in the series.
So far they've not only failed to capitalize on the advantage they have over the NBA 2K series – the ability to market the game throughout the year – but they've already found a way to put NBA Live 13 in a negative light.
Things of this nature tend to be quickly forgotten. It's easy to make the assumption that will be the case here once EA begins their true marketing push. It can still be damaging however whether quantifiable or not as missteps add up. NBA Live as a series wouldn't find itself in the position it resides in now otherwise.