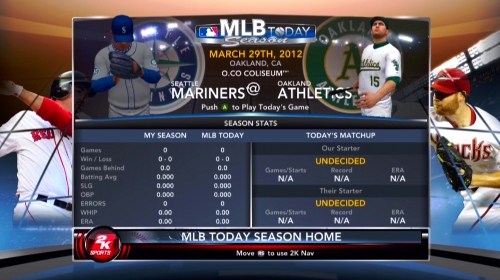 The MLB season has been underway since early Wednesday morning with the two game series between the Mariners and A's having taken place in Japan. That provides the opportunity to take a look at MLB Today Season mode which was the main feature addition for MLB 2K12. Seemingly, as with most things MLB 2K, it's not actually working as advertised.
MLB Today Season utilizes the MLB Today feature to provide up-to-date lineups, elements such as hot and cold streaks, and updated relevant commentary. In Season mode users choose a team and then play alongside the real life schedule. Games are played on the same day they take place in real life – and if not played then the actual results and stats take the place of those that would have been recorded in a user-controlled game.
Sadly it's not operating as intended yet which is especially embarrassing considering there was only one game on the docket to deal with. The data for Wednesday morning's game, which was won 3-1 in extra innings by the Mariners, has not been delivered. That data should be in with the opportunity to play the second game of the series right now.
Despite the correct date of the 29th being shown it appears it's still the first game from the 28th that would be available to play – either that or the pitching match-up didn't change for the second game as it should have. Start up the game and it's still Felix Hernandez vs Brandon McCarthy.
The other glaring flaw is that the lineups are completely inaccurate. MLB Today is supposed to provide not just the correct starting pitchers but the entire proper starting lineup. In the first game MLB 2K12 has Franklin Guiterrez in for the Mariners despite the fact he currently resides on the DL. Besides just the wrong players the batting order is way off too. 2K12 has Ichiro batting lead-off when it's been known for a while now he's been moved to the 3-hole.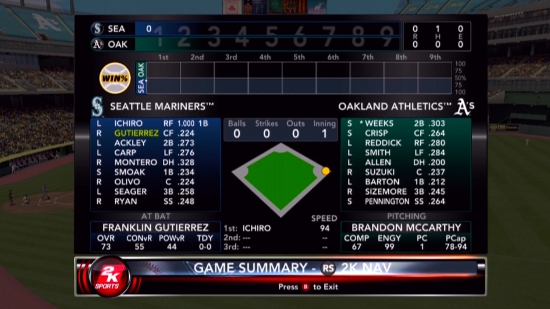 Also of note is that once in-game there is no ability to sim through innings or save a game in progress and come back to it later. That's disappointing considering the time investment required. It limits the ability for people to play alongside the season as they may have desired, or have some sort of impact in the games, and instead leaves them to rely on the real life stats instead.
MLB Today Season wasn't going to be a strong draw simply because 2K12 would have to be compelling enough that people would still be playing it in 5-6 months time. That of course wasn't accounting for whether the feature actually worked as advertised – which right now it doesn't.