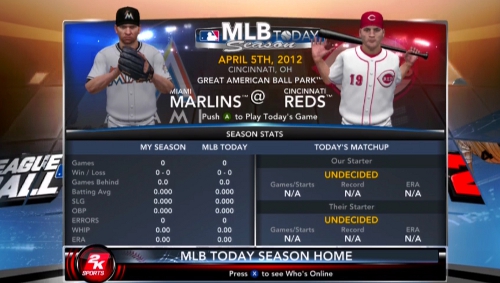 It wasn't completely unexpected that MLB Today Season mode in MLB 2K12 wouldn't be running properly right off the bat. The MLB 2K series has a history of poorly implemented or completely non-functioning features. So there was little surprise when last week MLB Today Season wasn't working when the season opened with the Mariners vs A's series in Japan. 
It's always important to check back on features to make sure the pre-release promises made are in fact being delivered upon. Here we have the largest addition to the series for the year – something reviewers couldn't even take into account but maybe rightfully so dismissing as having little importance given how lackluster the game is as a whole. It may not matter to 2K Sports who are eager to get out of baseball now that the license is ending but those consumers who did purchase the product have a right to receive what was advertised.
Heading back into the mode now that the entire league has gotten underway I investigated the Mariners and A's again and neither have received any data from their first two games. They both continue to list incorrect starting lineups and the incorrect starting pitchers. I also fired up the mode as the Marlins and Cardinals who had no data for opening night and the lineups/starting pitchers were incorrect for Thursday's games. As of Friday's set of games absolutely nothing has been updated in the mode. It's always the aces pitching, the lineups are wrong, and no MLB Today game data has come through.
The point of the MLB Today Season – to track alongside the season with the true lineups and pitchers for the day while being replaced by the real data if not manually played – is completely negated without the proper players and results being transferred in.
Given the problem is primarily stat and info related it would seem something that could addressed server side rather than being dependent on a patch. Hopefully that's the case since there will be no patch for 2K12 until well into May. Regardless of the method necessary 2K needs to get MLB Today Season running properly ASAP.