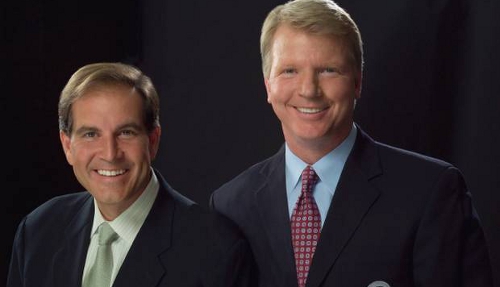 Madden NFL 13 will feature a brand new announcers. The CBS duo of Jim Nantz and Phil Simms will call the action in the booth. Nantz does play-by-play while Simms provides analysis – the two will be entering their ninth year together this coming season. It's unclear whether they will act as a second broadcast team or if they are replacing Gus Johnson and Cris Collinsworth but the likelihood is those two are being pushed out. 
Getting Gus Johnson for Madden NFL 11 was seen as a coup at the time. The commentary had been flat and boring with Tom Hammond in the lead and the excitement Johnson brought was a welcome change. He was never implemented very effectively though with a library of audio that was too shallow and his more extreme reactions being off in timing or simply absent. Johnson has also seen a loss in prominence over the last year since he moved from CBS to Fox to announce primarily college football. Collinsworth on the other hand had been an excellent addition to the series but EA Sports may have been looking to start fresh with two announcers who are familiar with each other and could spend time in the booth recording together.
Nantz and Simms are widely viewed as a solid broadcast team and not one that evokes many strong emotions either positive or negative. They're well respected but probably not the first duo that fans would pick if they could select one for Madden. A new commentary engine utilized in the FIFA series is expected to make its way into Madden this year which should help to improve the flow and relevancy of the comments.
What do you think of Madden NFL 13's commentary team of Jim Nantz and Phil Simms? As always leave your thoughts in the comments!