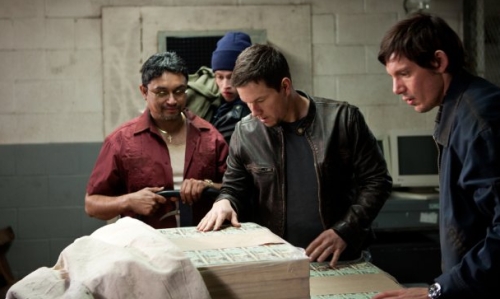 The bigger two releases this week come with the decently reviewed action film Contraband and the even better reviewed horror movie The Innkeepers. They are joined by a few different options commemorating the 100th anniversary of the sinking of the Titanic, some straight-to-DVD films, and new anime offerings.
•Contraband (Buy at Amazon: DVD or Blu-ray/DVD Combo)
Chris Farraday (Mark Wahlberg) long ago abandoned his life of crime, but after his brother-in-law, Andy (Caleb Landry Jones), botches a drug deal for his ruthless boss, Tim Briggs (Giovanni Ribisi), Chris is forced back into doing what he does best- running contraband-to settle Andy's debt. Chris is a legendary smuggler and quickly assembles a crew with the help of his best friend, Sebastian (Ben Foster), for one final run to Panama and back, hoping to return with millions in counterfeit bills. Things quickly fall apart and with only hours to reach the cash, Chris must use his rusty skills to successfully navigate a treacherous criminal network of brutal drug lords, cops and hit men before his wife, Kate (Kate Beckinsale), and sons become their target.
•The Innkeepers (Buy at Amazon: DVD or Blu-ray)
From director Ti West comes The Innkeepers. Set in the venerable Yankee Pedlar Inn, which is about to shut its doors for good after over a century of service. Believed by many to be one of New England's "most haunted hotels," the last remaining employees -Claire (Sara Paxton) and Luke (Pat Healy)- are determined to uncover proof before it shuts down for good. As the Inn's final days draw near, odd guests check in as the pair of minimum wage "ghost hunters" begin to experience strange and alarming events that may ultimately cause them to be mere footnotes in the hotel's long unexplained history.
•Let the Bullets Fly (Buy at Amazon: DVD or Blu-ray)
Set in China during the warring 1920s, notorious bandit chief Zhang descends upon a remote provincial town posing as its new mayor, an identity that he had hijacked from Old Tang, himself a small-time imposter. Hell-bent on making a fast buck, Zhang soon meets his match in the tyrannical local gentry Huang as a deadly battle of wit and brutality ensues.
•The Fields (Buy at Amazon: DVD or Blu-ray)
Steven (Joshua Ormond) is a young boy who's sent to live with his grandmother (Academy Award winner Cloris Leachman) and grandfather in the country while his mother (Tara Reid) and father work through their marital troubles. Though his grandparents warn him to stay away from the corn stalks near their house, Steven can't help but be drawn into the fields. At the same time, news reports of the murderous Manson Family horrify the nation. Then, strange things start happening: noises come from the fields at night and the family dogs disappear. Gradually, the happenings turn more horrifying, and Steven soon finds himself in the midst of a real life nightmare.
•Dark Tide (Buy at Amazon: DVD or Blu-ray)
Kate (Halle Berry) is a shark expert whose business has been failing since a shark attack killed a fellow diver under her command. Once dubbed "the shark whisperer," Kate is haunted by the memory of the attack and unable to get back into the water. With bills piling up and the bank about to foreclose on Kate's boat, Kate's old flame Jeff (Olivier Martinez) presents her with a lucrative opportunity: lead a t hrill-seeking millionaire businessman on a dangerous shark dive…outside the cage. Battling her self-doubts and fear, Kate accepts the proposal — and sets a course for the world's deadliest feeding ground: Shark Alley.
•Albatross (Buy at Amazon: DVD)
17-year-old Emelia (Jessica Brown Findlay), who believes she is following in the footsteps of her great-grandfather Sir Arthur Conan Doyle by pursuing a writing career, takes a job at a B&B owned by former writer Jonathan Fischer (Sebastian Koch, Black Book) and run by his wife Joa (Julia Ormond, The Curious Case of Benjamin Button). Sensing emerging talent in Emelia, Jonathan begins to tutor her, leading to a relationship that soon develops into a secret affair. Meanwhile, bookish daughter Beth Fischer (Felicity Jones, Like Crazy) finds an unlikely friend in the free-spirited Emelia and begins to reveal to her the details of the Fischer family's troubled past. Now unless she can extricate herself from her relationship with Jonathan, Emelia just might destroy what solidarity the family has left. A tender and poignant comedy, ALBATROSS shows how the most unusual of circumstances can teach us to stand on our own two feet.
•The Wicker Tree (Buy at Amazon: DVD or Blu-ray)
When two young missionaries (Brittania Nicol, Henry Garrett) head to Scotland, they are initially charmed by the locals in the town of Tressock, and agree to become the local Queen of the May and Laddie for the annual town festival. But the couple is not prepared for the frightening consequences of their decision, and the very disturbing secrets they are about to discover about Tressock's seemingly friendly townspeople. Written and Directed by Robin Hardy, The Wicker Tree also features Graham McTavish, Jacqueline Leonard, Honeysuckle Weeks, Clive Russell with Christopher Lee, star of the original The Wicker Man.
•Titanic (Buy at Amazon: DVD or Blu-ray/DVD Combo)
Oscar-winning writer Julian Fellowes and a stellar cast collaborate in an epic retelling of the ill-fated voyage like you've never seen before, combining action, mystery, romance and an unforgettable finale.
•Titanic: 100 Years On (Buy at Amazon: DVD)
April 15th 2012 marks the 100-year anniversary of the sinking of RMS TITANIC, with the loss of 1,517 lives. The "unsinkable" Floating Palace set sail from Southampton on April 10, 1912 on her maiden voyage to New York. An iceberg ended this monumental journey 5 days later. Only 705 of the 2,223 passengers and crew survived. Presented by actor Mark Lindsay Chapman, who played Chief Officer Henry Wilde in James Cameron's Titanic, this fascinating program takes you "deeper" into the legend of Titanic and separates the facts from the myths and the fantasy. An exclusive look at the Sea City Museum Titanic Exhibit in Southampton, and interviews from survivors as well as the cast of the blockbuster film, TITANIC, including Kate Winslet and Leonardo DiCaprio, give us a new perspective on this incredible 100-year old story.
•Fullmetal Alchemist Brotherhood: The Sacred Star of Milos Movie
(Buy at Amazon: DVD or Blu-ray/DVD Combo)
Fullmetal Alchemist: The Sacred Star of Milos, a new feature-length adventure into the world of an international anime sensation. A fugitive alchemist with mysterious abilities leads the Elric brothers to a distant valley of slums inhabited by the Milos, a proud people struggling against bureaucratic exploitation. Ed and Al quickly find themselves in the middle of a rising rebellion, as the exiled Milos lash out against their oppressors. At the heart of the conflict is Julia, a young alchemist befriended by Alphonse. She'll stop at nothing to restore the Milos to their former glory – even if that means harnessing the awful power of the mythical Philosopher's Stone.
•Fullmetal Alchemist Brotherhood: Complete Collection One
(Buy at Amazon: DVD or Blu-ray)
Two brothers search for a way to make their bodies whole again after an alchemy experiment goes wrong. This search pits these young alchemists against the magic-wielding military, mystic vigilantes and a group of beings created and named for the seven deadly sins. The brothers must fight for their lives and seek out the truth if they are to ever regain what they have lost.
•Marvel Anime: X-Men – Complete Series (Buy at Amazon: DVD)
The X-Men reunite after the death of a teammate in order to track down Hisako Ichiki (Armor), a missing teenage girl in Northern Japan. There, the X-Men encounter the fanatical anti-mutant group, the U-Men, and discover what was important enough for Xavier to bring them back together. The answer is something that could potentially bridge the gap between mutants and humans, or tear the two species apart forever.
•Marvel Anime: Iron Man – Complete Series (Buy at Amazon: DVD)
In an effort to make amends for his past in weapons manufacturing, Tony Stark has dedicated himself to building the world up rather than tearing it down. Traveling to Japan to build a new arc reactor that will deliver unlimited free energy to the Japanese people, Stark is challenged by the Japanese government and the media when he attempts to import the necessary nuclear priming device. When the nuclear reactor is repeatedly attacked by the mysterious Zodiac consortium, Stark must gather his allies to take on Zodiac and its mastermind.