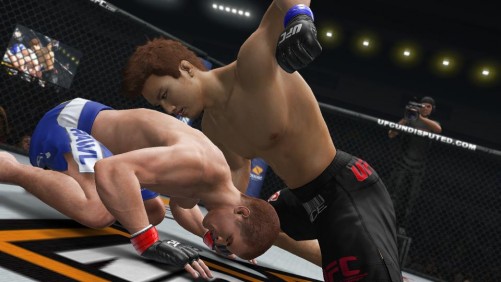 A second stat update for fighters in UFC Undisputed 3 is set to be released on Friday. The fighters should receive the changes to their ratings automatically upon start-up of the game. Continue on for the full details on the 26 fighters who have had their stats change in UFC 3. 
•"Legendary" Chuck Liddell
Speed up 2 points to 81, Standing Strike Offense up 3 points to 87, Standing Strike Defense up 2 points to 76, Ground Strike Offense up 2 points to 70
•Martin Kampmann
Strength up 2 points to 69, Submission Offense up 2 points to 81.
•Thiago Silva
Strength down 1 point to 80, Footwork down 2 points to 71, Standing Strike Defense down 1 point to 78
•Paulo Thiago
Standing Strike Defense down 3 points to 73
•Thiago Alves
Submission Defense down 2 points to 76
•Dong Hyun Kim
Standing Strike Offense up 2 points to 72, Standing Kick Offense up 4 points to 71
•Brendan Schaub
Standing Strike Defense down 3 points to 73
•Dennis Siver
Speed up 1 point to 80, Footwork up 2 points to 77
•Ben Rothwell
Standing Strike Defense up 2 points to 80
•Travis Browne
Speed up 2 points to 75, Standing Kick Offense up 3 points to 71, Submission Offense up 4 points to 70
•Court McGee
Standing Kick Offense up 3 points to 73
•Evan Dunham
Standing Strike Offense up 3 points to 78
•Mark Hominick
Standing Strike Offense up 2 points to 86, Standing Strike Defense down 2 points to 85
•Joseph Benavidez
Standing Strike Offense up 2 points to 88
•Miguel Torres
Standing Strike Defense down 3 points to 77
•Junior Dos Santos
Strength up 2 points to 86, Standing Strike Offense up 2 points to 90
•Rashad Evans
Standing Strike Defense down 2 points to 82
•Nick Diaz
Cardio up 2 points to 91, Speed up 2 points to 79, Standing Strike Defense up 3 points to 78, Standing Kick Defense down 2 points to 71
•Phil Davis
Takedown Offense down 3 points to 80, Takedown Defense down 2 points to 80
•Jason Miller
Cardio down 5 points to 78
•Brian Stann
Ground Strike Offense up 2 points to 83
•Rory MacDonald
Ground Strike Offense up 4 points to 83
•Joe Lauzon
Standing Kick Defense down 3 points to 75
•Chan Sung Jung
Strength up 2 points to 78, Standing Strike Offense up 3 points to 83, Submission Offense up 2 points to 78
•Dan Henderson
Strength up 1 point to 86, Standing Strike Offense up 2 points to 87, Standing Strike Defense up 3 points to 79
•Diego Nunes
Footwork down 2 points to 81, Standing Strike Defense down 3 points to 81