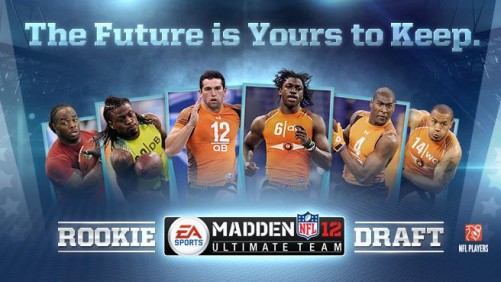 EA Sports is introducing 30 of this year's crop of rookies to Ultimate Team mode in Madden NFL 12 and began doing so during the first round of the NFL Draft. There are also 6 players that get "Future Stars" cards which represent a rating that could be from the peak of their career. Even more important though is that obtaining a rookie card means starting with that same player in Madden NFL 13's Ultimate Team mode.
This also acts as the first opportunity to get an idea of how these rookies will be rated in Madden NFL 13. Presumably they will enter with similar numbers and potentially even these exact numbers. Here are the players that are already in circulation within Madden while the addition of a few more are expected on Monday.
Overall ratings below. Check out the gallery, FB album, or G+ album for the full ratings breakdown of each player in eight primary individual attribute categories.
(#1) Andrew Luck: 85
(#2) Robert Griffin III: 83
(#3) Trent Richardson: 83
(#4) Matt Kalil: 83
(#5) Justin Blackmon: 80
(#6) Morris Claiborne: 81
(#7) Mark Barron: 80
(#8) Ryan Tannehill: 75
(#9) Luke Kuechly: 78
(#10) Stephon Gilmore: 73
(#11) Dontari Poe: 75
(#12) Fletcher Cox: 74
(#13) Michael Floyd: 75
(#14) Michael Brockers: 69
(#16) Quinton Coples: 76
(#17) Dre Kirkpatrick: 75
(#18) Melvin Ingram: 76
(#20) Kendall Wright: 74
(#23) Riley Reiff: 78
(#24) David DeCastro: 84
(#25) Dont'a Hightower: 74
(#26) Whitney Mercilus: 73
(#31) Doug Martin: 75
(#32) David Wilson: 72