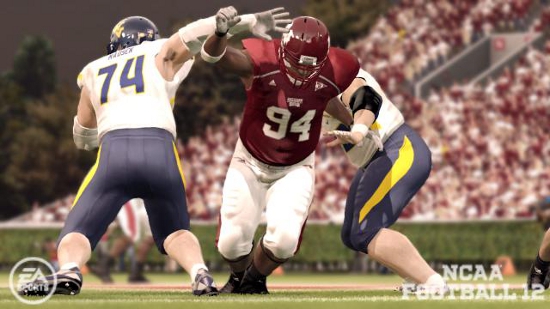 The first three rounds of the NFL Draft are in the books so the opportunity arises to analyze how the developments of the past two nights will affect teams in Madden NFL 13.
This evaluation primarily considers the improvement over the make-up of the teams last year rather than just who chose the highest rated individuals. In that sense just replacing a player who was lost to free agency with a rookie wouldn't represent an upgrade of significance. Positional importance is also a major factor.
Continue on for the teams that made choices which will help them the most in Madden NFL 13 and leave your own thoughts in the comments!
(10) Browns – Trent Richardson, Brandon Weeden, Mitchell Schwartz, John Hughes
Cleveland does get a new impact RB – but Brandon Weeden will come in not rated significantly higher than Colt McCoy. The team also still lacks a playmaking receiver having passed over the immediate impact guys.
(9) Bears – Shea McClellin, Alshon Jeffery, Brandon Hardin
These are quality pickups for Chicago with McClellin providing another quick pass rusher and Jeffery a big target in the passing game and especially in the red zone.
(8) Cowboys – Morris Claiborne, Tyrone Crawford
Dallas gets the nod here because they're pairing the top corner in the draft with Brandon Carr to improve a vulnerable secondary.
(7) Jaguars – Justin Blackmon, Andre Branch, Bryan Anger
Two huge needs for Jacksonville over the past few years have been getting a #1 receiver and finding some pass rush. They took care of that with their first two selections. Just ignore that they drafted a punter in the 3rd round.
(6) Patriots – Chandler Jones, Dont'a Hightower, Tavon Wilson, Jake Bequette
Moving up in the first round twice allowed the Patriots to get two big pieces for one of the worst defenses in the league last year. They went defense on all four picks. The only missing piece is the #1 receiver to stretch the field.
(5) Eagles – Fletcher Cox, Mychal Kendricks, Vinny Curry, Nick Foles
The Eagles went all defense along with a project QB. The defensive players are all very quick and athletic which is valuable in Madden.
(4) Redskins – Robert Griffin III, Josh Leribeus
There is no understating the difference between RG3 and Rex Grossman/John Beck in Madden.
(3) Rams – Michael Brockers, Brian Quick, Janoris Jenkins, Isaiah Pead, Trumaine Johnson
The Rams succeed with both quantity and quality. Character concerns matter not in Madden and the team addressed areas of need with each pick.
(2) Giants– David Wilson, Rueben Randal, Jayron Hosley
Despite drafting at the end of each round the Giants found a way to get guys who provide value and immediate impact on offense and special teams.
(1) Buccaneers – Mark Barron, Doug Martin, Lavonte David
Tampa did the best job with their set of picks to address deficiencies on both sides of the ball. All three are immediate upgrades at their respective positions.