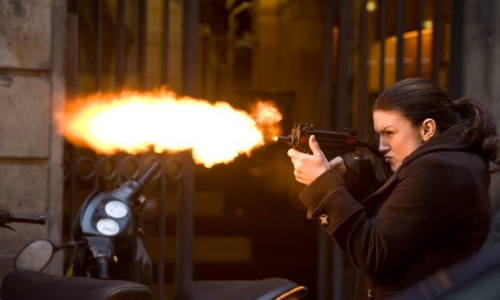 Featured in this week's set of Blu-ray and DVD releases is the action film Haywire – Gina Carano displays strong screen presence and there are some really visceral sequences but the story didn't really connect completely. Also arriving is the ensemble film New Years Eve and the musical comedy Joyful Noise.
•Haywire (Buy at Amazon: DVD or Blu-ray)
This dynamic action-thriller directed by Steven Soderbergh boasts a talented cast that includes Channing Tatum, Ewan McGregor, Michael Fassbender, Antonio Banderas, Bill Paxton, Michael Douglas, Michael Angarano; and introduces MMA superstar Gina Carano as Mallory Kane, in a demanding lead role that has her performing her own high-adrenaline stunts. Mallory Kane is a highly trained operative who works for a government security contractor in the dirtiest, most dangerous corners of the world. After successfully freeing a Chinese journalist held hostage, she is double crossed and left for dead by someone close to her in her own agency. Suddenly the target of skilled assassins who know her every move, Mallory must find the truth in order to stay alive.
•New Years Eve (Buy at Amazon: DVD or Blu-ray/DVD Combo)
New Year's Eve celebrates love, hope, forgiveness, second chances and fresh starts, in the intertwining stories told amidst the pulse and promise of New York City on the most dazzling night of the year.
•Joyful Noise (Buy at Amazon: DVD or Blu-ray/DVD Combo)
The small town of Pacashau, Georgia, has fallen on hard times, but the people are counting on the Divinity Church Choir to lift their spirits by winning the National Joyful Noise Competition. The choir has always known how to sing in harmony, but the discord between its two leading ladies now threatens to tear them apart. Their newly appointed director, Vi Rose Hill (Latifah), stubbornly wants to stick with their tried-and-true traditional style, while the fiery G.G. Sparrow (Parton) thinks tried-and-true translates to tired-and-old. Shaking things up even more is the arrival of G.G.'s rebellious grandson, Randy (Jeremy Jordan). Randy has an ear for music, but he also has an eye for Vi Rose's beautiful and talented daughter, Olivia (Keke Palmer), and the sparks between the two teenagers are causing even more heat between G.G. and Vi Rose.
•Men in Black II (Buy at Amazon: Blu-ray + Digital Copy)
Agent J needs help so he is sent to find Agent K and restore his memory. (2002)
•Clueless (Buy at Amazon: Blu-ray)
A US West Coast teen lifestyle parody centered around Cher, a popular high school girl who spends her days playing match-maker, helping her friends with fashion choices, and looking for a boyfriend. (1995)
•Meet Joe Black (Buy at Amazon: Blu-ray)
A media mogul acts as a guide to Death, who takes the form of a young man to learn about life on Earth and in the process, fall in love with his guide's daughter. (1998)
•Mimic – Film Set 1/2/3 (Buy at Amazon: DVD or Blu-ray)
Includes Mimic, Mimic 2, and Mimic 3: Sentinel.
•Covert Affairs: Season 2 (Buy at Amazon: DVD)
Runaway hit original series, Covert Affairs, stars Golden Glober-nominated Piper Perabo as Annie Walker, a young CIA operative whose exceptional linguistic skills and spot on instincts make her invaluable to the Agency. In season two, Annie's personal and professional lives crash into one another, and the balance of her relationships are forever changed. The series also stars Christopher Gorham, Sendhil Ramamurthy, Anne Dudek, Kari Matchett and Peter Gallagher. Watch all sixteen suspenseful and dynamic episodes uninterrupted, coming from the producer of The Bourne Trilogy.
•Suits: Season 1 (Buy at Amazon: DVD)
The new original series Suits delves into the fast-paced, high-stakes world of a top Manhattan corporate law firm where hotshot attorney Harvey Specter (Gabriel Macht, Love and Other Drugs) makes a risky move by hiring the brilliant but unmotivated, Mike Ross (Patrick J. Adams, Lost), as his new associate. The only problem is he doesn't have an actual law degree. With his encyclopedic knowledge and uncanny knack of remembering things, Mike proves to be a legal prodigy despite the absence of bona fide legal credentials. Bound by their secret, the two are forced to keep up the charade as they become an irrepressible duo.