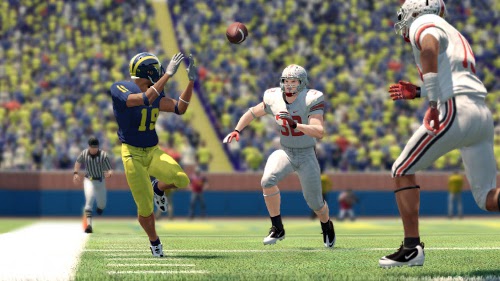 While the NCAA Football series has a long way to go in order to regenerate trust with consumers following last year it may have found at least a temporary reprieve from the negative perception upon it with the reaction to gameplay news that flowed out recently. Though nothing necessarily remarkable was announced the improvements and additions were met with a sense of acknowledgement of their potential value and long-overdue nature. 
Nearly 5K respondents made their opinions known in the poll last week and the results were overwhelmingly in favor of giving NCAA Football 13 more consideration considering the information.
44% were encouraged by the gameplay details and feel they are more likely to buy now than they were prior – only 8% were discouraged and beginning to close their minds to a purchase. In total 71% are leaning towards buying the game and 29% are heading the other direction.
Those numbers have to be welcome news for EA Sports as the company has faced a higher level of skepticism towards the product than any in recent memory. Anything that starts to trend the discussion towards NCAA 13 as opposed to the failures of NCAA 12 is going to be seen as a success from their end.