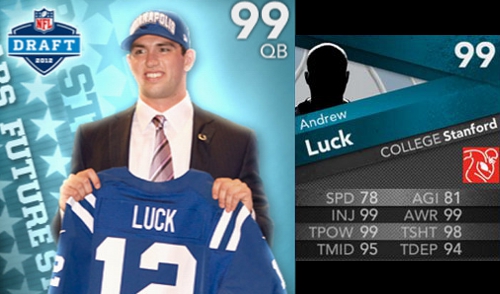 For those still active with Ultimate Team mode in Madden NFL 12 or planning to play it in Madden NFL 13 an additional pre-order incentive has been added by Amazon. A code for the 99 rated "Future Stars" Andrew Luck card is being emailed out to every pre-order for use immediately in Madden 12. That will then also automatically grant his rookie card (rated 85 or thereabouts) when starting up the mode in Madden 13.
Xbox 360 Version – – – PlayStation 3 Version
The new Ultimate Team bonus is in addition to the pre-order incentive already announced which features Joe Gibbs and Lawrence Taylor for use in Ultimate Team as well as the new "Connected Careers" mode/s. Gamestop does arguably have a stronger duo with John Madden and Barry Sanders if the choice on where to buy is being made with that primarily in mind.
It's unknown if/when Madden NFL 13 will receive a discounted price or promotional credit (Madden 12 came with a $20 promo credit attached). Still any pre-orders made now would automatically get a lower price or the credit should those come later down the line and orders can always be canceled prior to the shipping date of August 27.
Luck was among the 36 rookies added to Ultimate Team already – and one of the six to get the coveted "Future Stars" version.