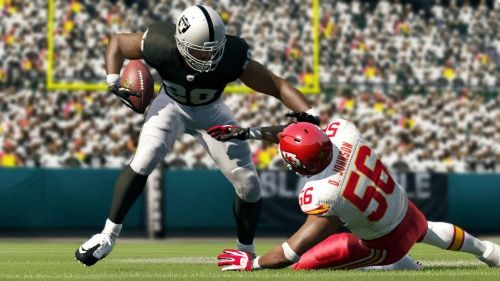 Last night brought the first opportunity to hear the new commentary team call the action in Madden NFL 13 however there is much more in the way of audio improvements being introduced within the game than just that. EA Sports has released a producer blog detailing the upgrades and a series of related videos.
While a great deal of the focus remains on Jim Nantz and Phil Simms taking over the announce duties and the process behind that there are improvements to crowd noise, new authentic QB cadences, and on-field sounds courtesy of a partnership with NFL Films. One other significant change comes with the music as there be no traditional soundtrack featuring artists but instead it will be made up of original themes created in-house.
Check out six new screenshots showing examples of the authentic broadcast booth placement in various stadiums in the gallery, FB album, or G+ album. Continue on for the latest preview led by Mark Schlereth, a trailer focused on the new commentary team, and the full lengthy recorded webcast with Madden 13 developers covering the topic.