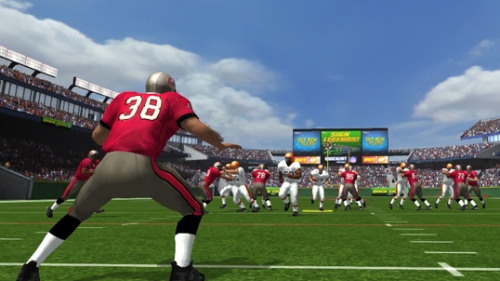 One of the strongest browser-based sports games to emerge over the years has been QuickHit Football which is a past Pastapadre community award winner in that category. The game began hosted solely on its own website in 2009 and has since expanded to be playable on Facebook as well. QuickHit featured generic players and teams but with five current NFL players signed on along with a number of legendary NFL players and coaches. 
In June 2010 the company announced they had reached a deal with the NFL to incorporate the league licensing within the game. September of that year the NFL integration launched featuring the official league branding, stadiums, team logos and colors.
QuickHit however will now be losing that NFL licensing as of June 1 and are removing all traces tomorrow. Prior player and coach agreements are not affected.
The exclusive NFL license is currently with EA Sports running through 2013 (Madden 14). That agreement however has never extended to mobile platforms or browser-based games which has allowed other companies to produce licensed products there. During E3 last year Majesco announced they had purchased QuickHit and that they were also planning an arcade-style NBA franchise which apparently is the absurd upcoming Kinect game NBA Baller Beats.