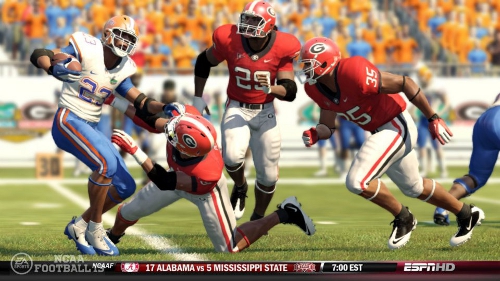 NCAA Football 13 gained some positive traction with it's gameplay and presentation news that was desperately needed due to a high level of skepticism generated by the troubles of last year. With over 3K votes collected following the news related to Dynasty mode the results are now even stronger in its favor. The video from last night however hasn't done the game any favors and that came too late to influence any voting patterns. 
•52% Encouraged and more likely to buy
•29% No change and likely to buy
•14% No change and unlikely to buy
•5% Discouraged and less likely to buy
Dynasty mode's new features include ESPN studio updates and a bottom line ticker, deeper scouting and recruiting options. dynamic conference prestige, and triple-threat athletes. Those details have been positively received even though there may have been other additions desired that didn't make the cut. The $45 Amazon deal is probably even factoring in here as well given the perceived value of the product at that price point is much higher than if it had been stuck at the standard $60.