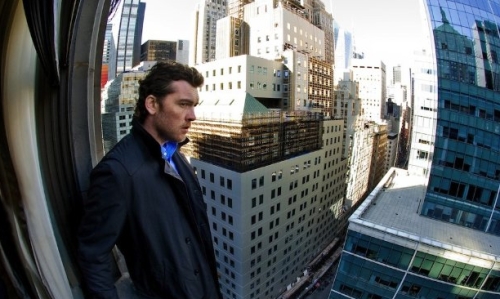 A fairly wide selection of DVD and Blu-ray releases this week featuring the decent thriller Man on a Ledge and the intensely popular HBO series True Blood's fourth season.
•Man on a Ledge (Buy at Amazon: DVD or Blu-ray)
An ex-cop and now wanted fugitive (Sam Worthington) stands on the ledge of a high-rise building while a hard-living New York Police Department negotiator (Elizabeth Banks)tries to talk him down. The longer they are on the ledge, the more she realizes that he might have an ulterior objective.
•Gone (Buy at Amazon: DVD or Blu-ray)
In the new suspense thriller Gone, Jill Parrish (Amanda Seyfried) comes home from a night shift to discover her sister Molly has been abducted. Jill, who had escaped from a kidnapper a year before, is convinced that the same serial killer has come back for her sister. Afraid that Molly will be dead by sundown, Jill embarks on a heart-pounding chase to find the killer, expose his secrets and save her sister.
•Goon (Buy at Amazon: DVD or Blu-ray/DVD Combo)
Not content with his job as a bouncer at a local Beantown bar and a bit of an embarrassment to his accomplished family, Doug Glatt (Seann William Scott) dreams of the kind of success enjoyed by minor league hockey goon Ross Rhea (Liev Schreiber). When a chance encounter with an on-ice thug leads to a bloody fist fight that Doug easily wins, the coach of the Halifax Highlanders sees potential in this mammoth sized man who is only hampered by his lack of any hockey playing ability and his brother's old figure skates. Standing up to the taunts of the other players, Doug manages to join the team, and with the encouragement of his hockey obsessed best friend (Jay Baruchel) quickly becomes a rising star. Soon he'll have the opportunity to face off against Ross "The Boss" Rhea and perhaps finally land a girlfriend. Now – all he needs is to learn how to skate
•Coriolanus (Buy at Amazon: DVD or Blu-ray)
Caius Martius 'Coriolanus' (Ralph Fiennes), a revered and feared Roman General is at odds with the city of Rome and his fellow citizens. Pushed by his controlling and ambitious mother Volumnia (Vanessa Redgrave) to seek the exalted and powerful position of Consul, he is loath to ingratiate himself with the masses whose votes he needs in order to secure the office. When the public refuses to support him, Coriolanus's anger prompts a riot that culminates in his expulsion from Rome. The banished hero then allies himself with his sworn enemy Tullus Aufidius (Gerard Butler) to take his revenge on the city.
•Memorial Day (Buy at Amazon: DVD or Blu-ray)
When SSgt. Kyle Vogel leaves a handwritten letter on the seat of his car, grabs a pistol and steps into a Minnesota forest, we wonder who he is and what he's about to do. Flash back a few months as Vogel lies wounded in a hospital near Anbar Province, Iraq. The night before he's due to return to combat, his doctor, Lt. Kelly Tripp, presses him on why he's so obsessed with collecting battle souvenirs. Kyle proceeds to tell her what happened on Memorial Day, 1993, when, as a 13-year old boy, he discovered his Grandpa Bud's WWII footlocker. Though reluctant to talk about the war, Bud, who served with the 82nd Airborne, strikes a deal with Kyle: "Pick any three objects, and I'll tell you the story behind each one." As we see Bud's WWII tales from Europe, we also see how Kyle's experiences in Iraq have paralleled them-and how that day on the porch will affect how he ultimately deals with the losses, regrets and moral dilemmas that unite all soldiers across wars and generations.
•Earth 3D (Buy at Amazon: Blu-ray 3D/Blu-ray)
Documentary. Take a journey around the world to see some of the most beautiful landscapes and animals that our planet has to offer.
•We Need to Talk About Kevin (Buy at Amazon: DVD or Blu-ray)
A suspenseful and gripping psychological thriller, Lynne Ramsay's We Need to Talk About Kevin explores the factious relationship between a mother and her son. Tilda Swinton, in a bracing, tour-de-force performance, plays the mother, Eva, as she contends for 15 years with the increasing malevolence of her first-born child, Kevin (Ezra Miller). Based on the best-selling novel of the same name, We Need to Talk About Kevin explores nature vs. nurture on a whole new level as Eva's own culpability is measured against Kevin's innate evilness.
•True Blood: Season 4 (Buy at Amazon: DVD or Blu-ray/DVD Combo)
True Blood is the sexy, scary, wildly entertaining drama series from Oscar- and Emmy-winning Alan Ball (HBO's Six Feet Under), and based on the Sookie Stackhouse novels by Charlaine Harris. Mixing romance, suspense, mystery and humor, True Blood tells the continuing tale of Sookie (Anna Paquin, Golden Globe-winner for this role), a human waitress with telepathic gifts – and a so-far irresistible attraction to 174-year-old vampire Bill Compton (Stephen Moyer). Surrounded by familiar faces – including her brother Jason (Ryan Kwanten), shape-shifting boss Sam Merlotte (Sam Trammell), soul-searching pal Tara Thornton (Rutina Wesley), Tara's cousin Lafayette (Nelsan Ellis); police chief Andy Bellefleur (Chris Bauer), vampire suitor Eric Northman (Alexander Skarsgård) and teen vamp Jessica (Deborah Ann Woll) – Sookie faces some new otherworldly threats in this season – as if vampires, werewolves, werepanthers and shapeshifters weren't enough!
•Dragon Age: Dawn of the Seeker (Buy at Amazon: DVD or Blu-ray/DVD Combo)
In a land where battles are fought with swords and magic, a young heroine rises to glory as Templars, mages, and dragons clash. Cassandra, a brash and beautiful warrior, must stop a conspiracy that threatens the realm's most powerful religious order. Accused of treasonous crimes and hunted by friend and foe, Cassandra must clear her name and overcome her rage in order to save the day and take her place in legend.