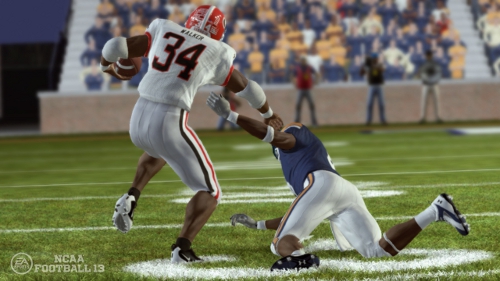 EA Sports today released details on the new Heisman Challenge mode for NCAA Football 13. The mode provides up to 16 former Heisman winners to choose from and add to any (2012) team for a single season in which the main goal will be to surpass their historic stats and milestones.
Barry Sanders, Andre Ware, Herschel Walker, Robert Griffin III, Marcus Allen, Charlie Ward, Eddie George, Desmond Howard, Carson Palmer, and Doug Flutie will be available to everyone. Downloading the demo will unlock Jim Plunkett, Archie Griffin, and Tim Brown.
Tim Tebow, Mark Ingram, and Matt Leinart are exclusively available via pre-order at Gamestop – but it's hard to imagine anyone taking that offer over saving $15 on the game and getting the exclusive Nike Pro Combat uniforms at Amazon.
Check out screenshots of many of the players included in the mode in the gallery, FB album, or G+ album. Note that all the images are taken of the player's backs which is curious. Continue on to check out the trailer and leave any thoughts in the comments!