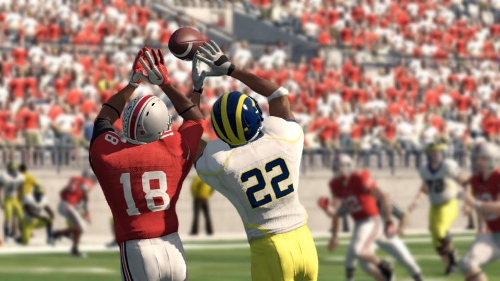 EA Sports did well to reestablish some lost interest following a dismal year with NCAA Football 12 by introducing news on gameplay and Dynasty mode improvements first for NCAA Football 13. The positive vibes were somewhat halted when actual gameplay videos released however. With nearly 4K votes cast here is how perception shook out for NCAA 13 soon after the first gameplay videos arrived.
•37% No change and still likely to buy
•24% Discouraged and less likely to buy
•23% Encouraged and more likely to buy
•16% No change and still unlikely to buy
The discouraged number had not hit double digits in a poll for NCAA yet – and factoring in Madden polls only once there topping out at 12% following the disappointing audio reveals. So the 24% that NCAA has received is a glaring concern for EA as consumers were thoroughly unimpressed and maybe even turned off to the product when actually seeing it in action.
With the largely negative response to Heisman Challenge mode NCAA Football 13's presence at E3 and later on the demo will hold even more importance in trying to create the necessary credibility with those who remain skeptical or find themselves undecided on a purchase.