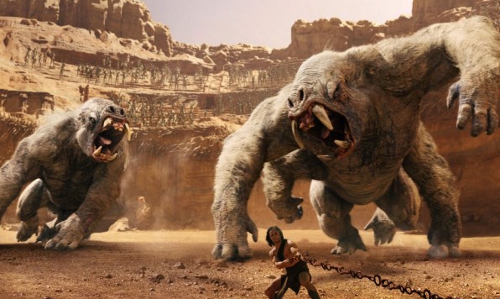 A huge week of releases on Blu-ray and DVD featuring some big action and adventure films and a bunch of really excellent seasons of TV.
•John Carter

From filmmaker Andrew Stanton comes John Carter-a sweeping action-adventure set on the mysterious and exotic planet of Barsoom (Mars). John Carter is based on a classic novel by Edgar Rice Burroughs, whose highly imaginative adventures served as inspiration for many filmmakers, both past and present. The film tells the story of war-weary, former military captain John Carter (Taylor Kitsch), who is inexplicably transported to Mars where he becomes reluctantly embroiled in a conflict of epic proportions amongst the inhabitants of the planet, including Tars Tarkas (Willem Dafoe) and the captivating Princess Dejah Thoris (Lynn Collins). In a world on the brink of collapse, Carter rediscovers his humanity when he realizes that the survival of Barsoom and its people rests in his hands.
•Safe House

Denzel Washington and Ryan Reynolds star in the action-thriller Safe House. Washington plays the most dangerous renegade from the CIA, who comes back onto the grid after a decade on the run. When the South African safe house he's remanded to is attacked by mercenaries, a rookie operative (Reynolds) escapes with him. Now, the unlikely allies must stay alive long enough to uncover who wants them dead.
•Act of Valor

An unprecedented blend of real-life heroism and original filmmaking, Act of Valor stars a group of active-duty U.S. Navy SEALs in a film like no other in Hollywood's history. A fictionalized account of real life Navy SEAL operations, Act of Valor features a gripping story that takes audiences on an adrenaline-fueled, edge-of-their-seat journey. When a mission to recover a kidnapped CIA operative unexpectedly results in the discovery of an imminent, terrifying global threat, an elite team of highly trained Navy SEALs must immediately embark on a heart-stopping secret operation, the outcome of which will determine the fate of us all. Act of Valor combines stunning combat sequences, up-to-the-minute battlefield technology, and heart-pumping emotion for the ultimate action adventure film-showcasing the skills, training and tenacity of the greatest action heroes of them all: real Navy SEALs.
•Journey 2: The Mysterious Island

In this follow-up to the 2008 worldwide hit Journey to the Center of the Earth, the new 3D family adventure Journey 2: The Mysterious Island begins when young Sean Anderson (Josh Hutcherson, reprising his role from the first film) receives a coded distress signal from a mysterious island where no island should exist. It's a place of strange life forms, mountains of gold, deadly volcanoes, and more than one astonishing secret. Unable to stop him from going, Sean's new stepfather, Hank (Dwayne Johnson), joins the quest. Together with a helicopter pilot (Luis Guzman) and his beautiful, strong-willed daughter (Vanessa Hudgens), they set out to find the island, rescue its lone inhabitant and escape before seismic shockwaves force the island under the sea and bury its treasures forever.
•Machine Gun Preacher

Gerard Butler (300) delivers a searing performance in this explosive, action-packed story of an inspiring real-life hero. Butler stars as Sam Childers, a drug-dealing criminal who undergoes an astonishing spiritual transformation and makes a life-changing decision to travel to war-torn East Africa. After witnessing unspeakable horrors faced by innocent children, he vows to save them at any cost, including his own safety. Childers begins waging a relentless battle against the territory's renegade militia, leading harrowing missions behind enemy lines to rescue kidnapped orphans and restore peace to their lives – and eventually his own.
•Breaking Bad: Season 4

The phenomenon continues as Breaking Bad hits a stunning new hight with its most suspenseful season yet! In his multiple Emmy Award-winning role, Bryan Cranston stars as Walter White, a one-time mild-mannered chemistry teacher whose transformation into a deadly criminal kicks into overdrive in the explosive fourth season. As his young accomplice Jesse (Aaron Paul in his Emmy Award-winning role) turns increasingly distant and hostile, Walt must deal with his estranged wife (Anna Gunn), his relentless DEA Agent brother-in-law (Dean Norris), and the ruthless kingpin manipulating the entire operation (Giancarlo Esposito) – culminating in a bombshell season finale that will leave you speechless.
•Burn Notice: Season 5

A new day breaks for Michael Westen when he's reinstated by the CIA, but his good fortune is impossibly short-lived. Framed for murder and blackmailed by a diabolical foe, Michael and his team must do whatever it takes to clear his name and catch a killer. As the danger builds, Michael finally comes face-to-face with the man who burned him, leading to an explosive finale, after which nothing will ever be the same. Featuring an exclusive extended episode, deleted scenes, and so much more, Burn Notice Season Five will reveal more shocking secrets than ever before!
•White Collar: Season 3

Matt Bomer is back for another thrilling season of high-class capers and criminal intrigue on TV's slickest, sexiest show, White Collar! Bomer returns as suave con man turned FBI consultant Neal Caffrey, racing to stay one step ahead of the feds even as he helps his partner, Agent Peter Burke, bring down some of the world's most clever criminals. The stakes are at an all-time high as Neal struggles to come to terms with his own checkered past, but will his greatest con cost him everything? Featuring DVD-exclusive extras, the white hot Season Three of White Collar is a whole new bag of tricks!
•Curb Your Enthusiasm: Season 8

Candid, unsparing and self-deprecating, Curb Your Enthusiasm is driven by the off-kilter comic vision of Larry David, co-creator and co-executive producer of another lauded comedy series, Seinfeld. David's HBO series blurs the lines between reality and fiction, as he and a cast of real and fictional characters are followed by a ubiquitous camera that chronicles the private, often banal world of a (relatively) public man. The series proves how seemingly trivial details of one's day-to-day life – a trip to the grocery store, a remark at a dinner party, a fender-bender – can precipitate a "Murphy's Law" chain of misfortune to hilarious effect. To keep the narrative spontaneous, Curb is shot without a script; cast members are given scene outlines and often improvise lines as they go.
•Falling Skies: Season 1

Falling Skies opens in the aftermath of an alien attack that has left most of the world completely incapacitated. The few remaining survivors have banded together. Each day is a test of survival as citizen soldiers work to protect the people while engaging in a campaign against the occupying alien force, whose purpose remains a mystery. Starring Noah Wyle, Moon Bloodgood, and Will Patton.
•Workaholics: Season 1 and 2

Workaholics is Comedy Central's hit series that follows three friends fresh out of college who live and work together as telemarketers.The crew spends their days scheming together to avoid doing any real work and their nights looking for good times. Join Anders, Blake and Adam as the first two seasons unfold bringing all 20 hysterical episodes into one wild fully torqued experience.