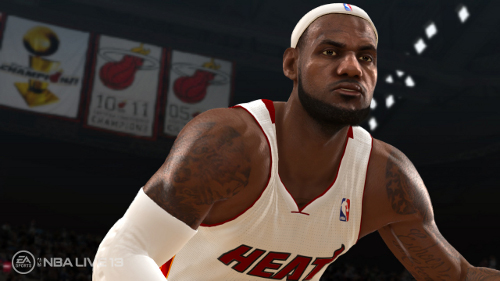 EA Sports has released the first set of screenshots for NBA Live 13 for a chance to see how it is shaping up graphically along with an early handful of features to expect. Take a look in the gallery, FB album, or Google Plus album, and continue on for the first details on features and make sure to leave any thoughts on the information and images in the comments! 
Product Description
The NBA LIVE franchise makes its return with key innovations to core gameplay, presentation and online experiences that connect you to your friends and to the real-world of basketball all season long.  NBA LIVE 13 delivers the excitement of authentic NBA basketball with smart and spectacular gameplay.  The all-new Playmaker Engine leverages world-class animation technology that delivers unprecedented feel, responsiveness and authenticity to NBA LIVE 13. The game will feature a fully integrated ESPN broadcast package, bringing the gold standard of televised NBA games to the franchise.  Your favorite NBA players are brought to life with photorealistic heads, authentic body types, signature moves and emotions.  With best-in-class online technology, NBA LIVE 13 provides gamers with a meaningful and progressive online experience that gives gamers and friends the ability to connect and compete. So hit the hardwood and start creating your highlight reel with NBA LIVE 13!
Features
•Smart Spectacular Gameplay – NBA LIVE 13 features smart and spectacular gameplay through Basketball IQ which delivers organic team play as your teammates react and respond to the flow of every game. Driven by Basketball IQ, each team has the ability to adjust quickly to any situation where players can analyze and read off of each other. Gamers will experience the feeling of hitting a cutting player at just the right time for an open lay-up or driving the lane to dish to a teammate for an open jumper – this is real, intelligent, team basketball. Relive those wow moments, and experience what it is like to be Jeremy Lin and deliver the perfect pin-point alley oop pass to a high flying Tyson Chandler!
•ESPN Broadcast Presentation – NBA basketball fans will enjoy a fully integrated ESPN broadcast package in NBA LIVE 13. The presentation will look, feel and sound like a real NBA broadcast, from detailed player images and arena modeling, to the on-air personalities of ESPN's #1 commentary team of Jeff Van Gundy and Mike Breen, to authentic camera angles from ESPN's TV broadcasts that will immerse players in a realistic NBA game experience.
•Player Authenticity – NBA LIVE 13 features a brand new graphics engine that takes player authenticity to a whole new level! Your favorite NBA players will mirror their real-life counterparts with photorealistic star heads thanks to EA SPORTS state-of-the art technology. In addition to authentic player shoes, tattoos and hair, signature bodies enable NBA LIVE 13 to scale and map every single player to their real-life size and tailor the player model to each individual's body composition. The game will feature a full package of signature styles for all the top NBA superstars – from look and feel to tendencies and emotions, such as Lebron James' chase down block.
•Connecting Experiences – EA SPORTS has always delivered great online experiences and NBA LIVE 13 will feature all-new online features that will keep players connected and competing all year round!