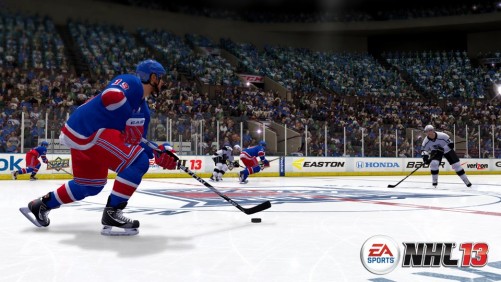 EA Sports has announced the pre-order incentives for NHL 13 and they vary between retailers. The options will be of interest to Hockey Ultimate Team or Be a Pro and EA Sports Hockey League players. Outside of those modes though they are offering nothing. The one with the most value is probably Gamestop's but otherwise it may be worth waiting to see if Amazon drops the price or adds a promotional credit in the coming weeks.
Amazon: BAUER gloves, stick, skates, boost to enhance Be a Pro/EASHL player.
Best Buy: Reebok 20K: gloves, stick, skates, boost to enhance Be a Pro/EASHL player.
Gamestop: One Gold HUT pack per week for 16 weeks
Origin: In-game Goalie boost to enhance a Be a Pro and EASHL goalie.
The company also provided further details on the Collector's Edition which is being offered for $80. It'll include the game, two Stanley Cup themed Hockey Ultimate Team packs featuring randomized players from the Conference Champion Kings and Devils, a 'Gold Jumbo' HUT pack with randomized cards from 24 teams including an exclusive Wayne Gretzky, a CCM boost pack for use in Be a Pro and EASHL, a one-time use 10% discount code for use at the NHL.com shop, and an exclusive Stanley Cup branded tin case.