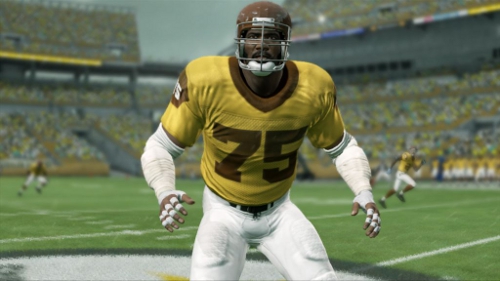 EA Sports today revealed the full roster of legendary players and coaches being featured in Madden NFL 13. It's been known for a while that a significant list of legends would be integrated in both Madden Ultimate Team and Connected Careers mode but it was just recently discovered some are included on a special Play Now team as well.
The Canton Greats team was on display at E3 – and as mentioned in the preview of Connected Careers starting as a legend within that mode means beginning with their respective rookie-caliber ratings (low 80s). Additional details include the ability for commissioners in an online connected career to block the entry of legends instead only allowing created or current players to be controlled, Hall of Fame inductions in careers coming one year after retirement rather than having the five year wait, the coaches having their own playbooks, and QBs getting their respective authentic throwing motions.
There are 27 legendary players and 7 coaches but those numbers include the individuals who are unfortunately only available exclusively to pre-orders at various retailers. Because of that the most anyone can have will be 23 players and 3 coaches. (Update) It sounds as though the opportunity will be there to earn the exclusive players/coaches within MUT which then would actually unlock them for selection in Connected Careers. More details to come. 
Players
Barry Sanders (Gamestop)
Dave Casper
Deion Sanders
Derrick Brooks
Dick Lane
Emmitt Smith
Gene Upshaw
George Blanda
Jerry Rice (Best Buy)
Joe Greene
Joe Montana
John Elway (Walmart)
John Mackey
Kellen Winslow
Kurt Warner
Lawrence Taylor (Amazon + $15 credit)
Marshall Faulk (Origin)
Michael Irvin
Otto Graham
Reggie White
Rod Woodson
Ronnie Lott
Shannon Sharpe
Steve Young
Troy Aikman
Walter Payton
Warren Moon
Coaches
Bill Walsh (Best Buy)
Dick Vermeil (Origin)
Joe Gibbs (Amazon + $15 credit)
John Madden (Gamestop)
Tom Flores
Tom Landry (Walmart)
Vince Lombardi