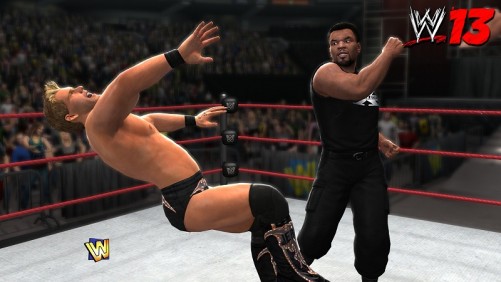 Pre-orders of WWE 13 will receive a code to download a playable Mike Tyson. The deal is non-exclusive so all major retailers will be offering it – with Amazon the first to post it today.
Tyson is best remembered for his appearances leading up to and at WrestleMania XIV, where he was recruited by D-Generation X (DX) to serve as a ringside enforcer during the main event match between DX member Shawn Michaels and Stone Cold Steve Austin for the WWE Championship. Tyson, sporting a sleeveless DX t-shirt and black jeans – the same look as his playable character in WWE 13 – interfered in the match, allowing Austin to secure the victory and ultimately abandoning his presumed alliance with the renegade faction.
Tyson's involvement took place during the "Attitude Era" – which is a major theme for this year's game – and he was recently inducted into the WWE Hall of Fame.