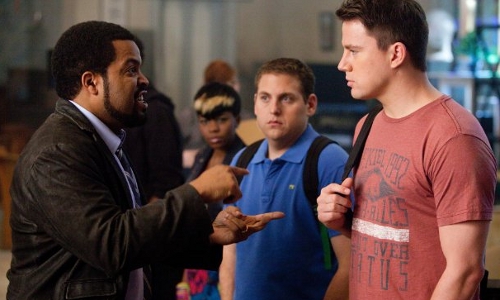 A strong week of Blu-ray and DVD releases include the hilarious 21 Jump Street, Academy Award Best Picture Winner The Artist, a decent action-fantasy film in Wrath of the Titans, and a special collection of five Christopher Nolan films .
•21 Jump Street

In the action-comedy 21 Jump Street, Schmidt (Jonah Hill) and Jenko (Channing Tatum) are more than ready to leave their adolescent problems behind. Joining the police force and the secret Jump Street unit, they use their youthful appearances to go undercover in a local high school. As they trade in their guns and badges for backpacks, Schmidt and Jenko risk their lives to investigate a violent and dangerous drug ring. But they find that high school is nothing like they left it just a few years earlier – and neither expects that they will have to confront the terror and anxiety of being a teenager again and all the issues they thought they had left behind.
•Wrath of the Titans

A decade after his heroic defeat of the monstrous Kraken, Perseus-the demigod son of Zeus-is attempting to live a quieter life as a village fisherman and the sole parent to his 10-year old son, Helius. Meanwhile, a struggle for supremacy rages between the gods and the Titans. Dangerously weakened by humanity's lack of devotion, the gods are losing control of the imprisoned Titans and their ferocious leader, Kronos, father of the long-ruling brothers Zeus, Hades and Poseidon. Perseus cannot ignore his true calling when Hades, along with Zeus' godly son, Ares, switch loyalty and make a deal with Kronos to capture Zeus. The Titans' strength grows stronger as Zeus' remaining godly powers are siphoned.
•The Artist

Hollywood 1927. George Valentin (Jean Dujardin) is a silent movie superstar. The advent of the talkies will sound the death knell for his career and see him fall into oblivion. For young extra Peppy Miller (Berenice Bejo), it seems the sky's the limit – major movie stardom awaits. The Artist tells the story of their interlinked destinies.
•Mirror Mirror

One of the most beloved stories of all time is coming to life in the motion picture event for the whole family, Mirror Mirror. A fresh and funny retelling of the Snow White legend, Mirror Mirror features breakout star Lily Collins as Snow White, a princess in exile, and Julia Roberts as the evil Queen who ruthlessly rules her captured kingdom. Seven courageous rebel dwarfs join forces with Snow White as she fights to reclaim her birthright and win her Prince in this magical comedy filled with jealousy, romance, and betrayal that will capture the hearts and imaginations of audiences the world over. The film also stars Armie Hammer as the Prince, and Nathan Lane as the hapless and bungling servant to the Queen.
•A Thousand Words

Eddie Murphy is Jack McCall, a fast-talking literary agent, who can close any deal, any time, any way. He has set his sights on New Age guru Dr. Sinja (Cliff Curtis) for his own selfish purposes. But Dr. Sinja is on to him, and Jack's life comes unglued after a magical Bodhi tree mysteriously appears in his backyard. With every word Jack speaks, a leaf falls from the tree and he realizes that when the last leaf falls, both he and the tree are toast. Words have never failed Jack McCall, but now he's got to stop talking and conjure up some outrageous ways to communicate or he's a goner.
•Christopher Nolan Director's Collection

Includes the films Batman Begins, The Dark Knight, Inception, Memento and Insomnia.
•Bullhead

Domineering cattle farmer Jacky Vanmarsenille (Matthias Schoenaerts), constantly pumped on steroids and hormones, initiates a shady deal with a notorious mafioso meat trader. When an investigating federal agent is assassinated and a woman from his traumatic past resurfaces, Jacky must confront his demons and face the far-reaching consequences of his decisions.
•Damages: Season 4

Patty Hewes (Glenn Close) prepares for a class action suite against a multinational pharmaceutical company, Ellen Parsons (Rose Byrne) returns to Hewes & Associates to pursue her own lawsuit against military contractor High Star Security and its powerful CEO, Howard Erickson (guest star John Goodman).