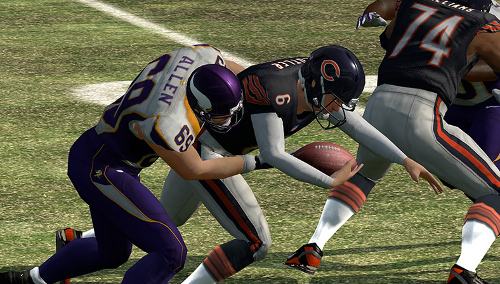 Outside of the general outlook for the PlayStation Vita version of Madden NFL 13 being based primarily on Madden NFL 12 – and the lack of cross-platform play via save transfers with the PS3 – very little about the game had been discussed by EA Sports or Sony. It wasn't on hand at E3 and given the terrible sales numbers for the Vita system not many could fault EA's logic in their avoidance of dedicating heavy resources towards its development. 
Keep in mind that 2K Sports has simply chosen not to release NBA 2K13 for the Vita. Contractually EA Sports may be forced to by the NFL, and pressured to by Sony, but that doesn't mean the end product will be very compelling. Certainly when put up against the console versions Madden 13 for Vita will be perceived as an afterthought unlike Sony's own attempt earlier this year with MLB 12: The Show. While the quality of the Vita version of The Show was fairly close to that of the PS3 the shift of resources to its development didn't pay off in sales for the game or system.
The Verge's gaming division Polygon has more details on the game along with the first screenshots and reiterate that it's based off Madden NFL 12. There won't be any "Impact Engine" physics or Connected Careers mode here. The only thing carrying over will be the new commentary team of Jim Nantz and Phil Simms. The article includes some hands-on impressions as well as insight into the development of the game making for an interesting read.