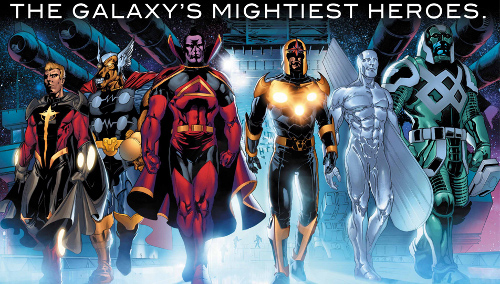 According to Latino Review and Variety Marvel is set to announce production on a Guardians of the Galaxy film (to release on May 16, 2014) at their Comic-Con panel on Saturday July 14.
The Guardians are aliens in the 31st century — each the last of their kind — who travel back in time to enlist help to battle the Badoon, an evil alien race that attempts to conquer Earth's solar system. First introduced in 1969 and again in 2008, the newer set includes Star-Lord, Drax, gun-toting Rocket Raccoon and Groot, a tree. Characters were recently featured in an episode of the animated series "The Avengers: Earth's Mightiest Heroes."
Those who stuck around for the credits scene in The Avengers were introduced to Thanos. At the time the assumption was he would become the main villain for The Avengers 2 but now it appears he'll be more formally introduced before then. Guardians of the Galaxy would be a natural showcase (he has appeared in recent GOTG comics) but don't rule out the possibility of an even earlier appearance in Thor 2.
The slate of Marvel films would then chart out with Iron Man 3 and Thor 2 in 2013, Captain America 2 and Guardians of the Galaxy in 2014, and The Avengers 2 in 2015. An Ant-Man film is also in the works and could release within that period as well.