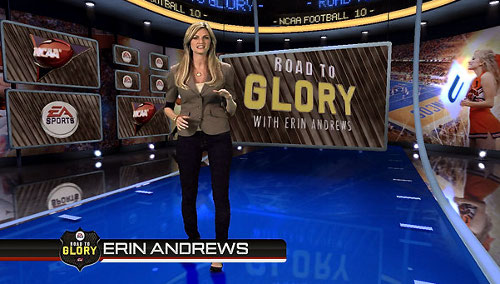 Though the four team college football playoff won't be instituted until 2014 (likely introduction in NCAA 15) the NCAA Football series has a major shakeup to deal with already for NCAA 14. Erin Andrews will not be back with ESPN. 
As of today her contract expired and though she's yet to sign her destination appears likely to be Fox. Regardless of where, it won't be ESPN, which means she'll no longer be featured in the franchise beyond the soon to be released NCAA 13.
Andrews debuted in NCAA 10 as the sideline reporter and had even more duties as the Road to Glory guide/host within a studio setting. The contribution to presentation hasn't been very substantial since then but her presence was meaningful.
Jenn Brown and Samantha Steele would seem to be the two prime candidates to take over the position and with a fresh start could get an expanded or enhanced role. Who would you like to see carry the sideline reporting duties beginning with NCAA Football 14?