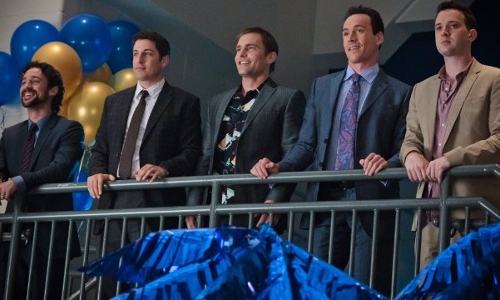 •American Reunion
In the comedy American Reunion, all the American Pie characters we met a little more than a decade ago return to East Great Falls for their high-school reunion. In one long-overdue weekend, they will discover what has changed, who hasn't and that time and distance can't break the bonds of friendship. It was summer 1999 when four small-town Michigan boys began a quest to lose their virginity. In the years that have passed, Jim and Michelle married while Kevin and Vicky said goodbye. Oz and Heather grew apart, but Finch still longs for Stifler's mom. Now these lifelong friends have come home as adults to reminisce about-and get inspired by-the hormonal teens who launched a comedy legend.

•The Flowers of War
In 1937, Nanking stands at the forefront of a war between China and Japan. As the invading Japanese Imperial Army overruns China's capital city, desperate civilians seek refuge behind the nominally protective walls of a western cathedral. Here, John Miller (Christian Bale), an American trapped amidst the chaos of battle and the ensuing occupation takes shelter, joined by a group of innocent schoolgirls and thirteen courtesans, equally determined to escape the horrors taking place outside the church walls. Struggling to survive the violence and persecution wrought by the Japanese army, it is an act of heroism which eventually leads the seemingly disparate group to fight back, risking their lives for the sake of everyone.

•Being Flynn
Writer-director Paul Weitz turns his hand to this moving portrait of fathers and sons. Based on a true story, Being Flynn follows Nick Flynn (Paul Dano) who is shocked to have his eccentric and long-absent father, Jonathan (Robert De Niro) reach out to him unexpectedly. Still feeling the loss of his mother (played in flashbacks by Julianne Moore) in the midst of starting a new relationship with Denise (Olivia Thirlby), the last person Nick wants to see is his father. But you can't outrun fate and slowly Nick comes to realize he has been given the chance to make a real future not only for himself, but for his struggling father too.

•Senna
Spanning his years as a Formula One racing driver from 1984 to his untimely death a decade later, Senna explores the life and work of the triple world champion, his physical and spiritual achievements on the track, his quest for perfection and the mythical status he has since attained.

•Altered States (1980)
A scientist experiments unlock the horrors of his mind. Visual wizard Ken Russell directs William Hurt, Blair Brown and a mind-blowing array of special effects.

•Outland (1981)
For Marshal O'Neil (Sean Connery), the Jupiter moon Io is just another dingy mining town on the final frontier. When his wife leaves him and takes their son with them, it merely confirms that though he's traveled millions of miles, his life is going nowhere. Then he notices that miners are dying in strangely psychotic ways — walking in space without spacesuits, carving up prostitutes. With the help of Dr. Lazarus (Frances Sternhagen), his investigation reveals that the miners are ingesting a lethal drug that speeds their work efforts. He learns that the company that runs the town is behind the drug. He confronts the town boss Sheppard Peter Boyle and soon has two hit men heading toward Io with a plan to kill him. As the seconds tick down to the next space shuttle's arrival, O'Neil plots to meet them and faces the biggest challenge of his life.

•Brainstorm (1983)
Research scientists Louise Fletcher ("One Flew Over the Cuckoo's Nest") and Christopher Walken ("The Deer Hunter") invent a machine that can record sensory experiences only to have devastating results when Fletcher records her own death.

•Adventure Time: Season 1
What time is it? It's time for Adventure Time: The Complete First Season DVD. The Cartoon Network's #1 hit comedy show and Emmy nominated series that centers on the post apocalyptic adventures of Finn, a human boy with a funny hat, and his friend Jake.

•Warehouse 13: Season 3
Return to the mysterious Warehouse for the most thrilling season yet of Syfy's most popular series ever! Pete, Myka, Claudia & Artie are joined by new agent Steve Jinks (Aaron Ashmore, Smallville) as they pursue dangerous new missions, and face a powerful new enemy whose vendetta against the Warehouse knows no bounds. Filled with explosive action, fantastical artifacts and inventive gadgetry, this collectible three-disc set is packed with every Season Three episode and riveting bonus features including a never-before-seen episode of the webisode series "Of Monsters and Men."

•The Glades: Season 2
Matt Passmore is back as Jim Longworth – a Chicago detective who relocates to South Florida – in the compelling and wryly humorous second season of The Glades. When he's not hitting the links, Longworth is haunted by old ghosts, facing an intriguing caseload of baffling homicides. Amid mobsters, NASCAR drivers, bootleggers, and sideshow freaks, everyone is a suspect. Meanwhile, Jim and Callie's fledgling relationship is threatened when her husband is released from prison and an old flame reappears. And Jim will need a lot more than good looks and devilish charm when a final standoff leaves Callie's life in jeopardy.

•The Big Bang Theory: Season 1 and Season 2
University physicists Leonard and Sheldon know whether to use an integral or a differential to solve the area under a curve. But they don't have a clue about girls. Or dating. Or clothes. Or parties. Or having fun. Or, basically, life. So when a pretty blonde named Penny moves in the apartment across the hall, the guys decide to get an education outside of the classroom. Boys, you have a lot to learn. With series creators Chuck Lorre (Two and a Half Men) and Bill Prady (The Gilmore Girls) concocting the right mix of logic and lunacy and stars Johnny Galecki (Roseanne) and Jim Parsons (Judging Amy) turning geekdom into Phi Beta fun, The Big Bang Theory is big on laughs. And life.