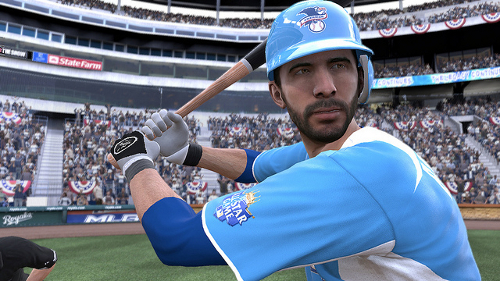 With the MLB Home Run Derby having taken place last night SCEA finally rolled out full access to the Online Home Run Derby mode in MLB 12: The Show. 
Play against one or seven other users online (2-8 players simultaneously) for a chance to be crowned the Home Run Derby champion and earn extra XP. Users can enter into a "Random Match" against the community or "Play with Friends." All players will see and be able to swing at pitches at the same time and watch each hit, which is represented by multi-colored hit ribbons that stretch from home plate to wherever the ball lands. The on-screen, in-game, real-time leaderboard lets you know who the leader is and where you stand so you're always aware of how you're doing against the competition.
It took over four months for SCEA to deliver Online Home Run Derby which was advertised prior to release. Though it was never heavily marketed it was still mentioned as a feature for the game and the company refused comment once it was discovered to be absent. In late May it was spun into a promotion with Taco Bell limiting the mode to only the few who were aware of it and cared to put in required effort that shouldn't have been at all necessary to acquire it.