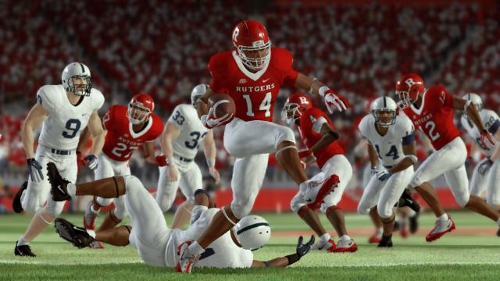 EA Sports has remained non-committal to updating uniforms throughout the year in NCAA Football 13 despite some early discussion of the possibility. Though the company hasn't confirmed their plans regarding the subject a tweet from Rutgers' Senior Associate Athletic Director for Communications Jason Baum suggests updates are on the way with the declaration that their new Nike uniforms will be delivered to the game soon. 
#RFootball EA NCAA Football '13 fans: The new Nike uniforms for #RFootball will be available in an update soon for users.
New uniforms for a number of schools were inexplicably left out of NCAA 13 – Rutgers is joined by several others including Missouri and Arkansas. EA Sports will have trouble justifying charging for these uniforms that should have been in the game to begin with. That's not to say they won't try – but consumers should expect and demand those uniforms be free. It would be understandable however for the company to charge for new uniforms that are unveiled later in the year and several schools such as Georgia Tech, Mississippi State, and Texas A&M even still have yet to reveal them for the upcoming season.
(Update) A statement from EA confirms plans to provide free uniform updates with a release time frame of mid-August. The game will be patched thus allowing for updates to be completed and then uniform packs will be released over the course of the year as needed.
Once the patch is out we will be updating all of teams who have new default home/away uniforms, as well as any schools where uniform inaccuracies are present. All "corrected" uniforms will be free, we're not going to charge users a dime to get the right outfits for their teams.