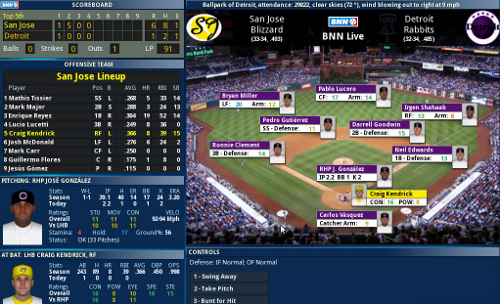 A significant new patch has arrived for the popular management sim Out Of The Park Baseball 13. This represents the fourth patch delivered so far and brings with it not just fixes but also some very notable feature additions. What may be the coolest new feature is the ability to broadcast simulations in real-time to the league website. 
Here are the patch notes that relate to the PC version of OOTP 13 which can be purchased from the game's official website for $40.
• Added a feature that enables online leagues to broadcast the real-time simulation screen to the league website as a real-time report. League members can watch the league being simulated live
• Added a "Check teams for roster violations" function to the commissioner home screen
• Added ability to edit "Projected Budget"; if set, all future budgets of a team can remain constant
• Added a "GM only" mode (in manager options) that prevents the human GM from winning the manager of the year award or appearing in the manager-related history reports
• Added the ability to add leagues to and remove them from existing associations
• Added a "Reset all Injuries & DL status" function to the league setup screen
• Added a "Reset Player Fatigue" function to the league setup screen
• Added a "Reset Player Morale" function to the league setup screen
• Added a "Reset Compensation Type of all Free Agents" function to the league setup screen
• Added an option in the league setup screen to disable automatic Hall of Fame inductions
• Added two new player split stat categories, "As Starter" and "As Reliever / Substitution"; these only work for the current season, though
• Added coach pictures to the team personnel screen
• Added player pictures to the in-game player profile screen
• The payroll between the start of the offseason and the date of free agent filings is now a projection rather than the salaries from the just finished season, resulting in more accurate projected budgets and funds available
• Shortlisted players are now highlighted with name displayed in upper case in player lists
• Players discovered through international scouting will now accept minor league contracts if they are very young and years away from reaching the majors
• Improved various aspects of the in-game and roster AI
• Fixed several bugs
Meanwhile the mobile version, iOOTP Baseball 2012, recently received its second update. Those who don't already have the game can find it here on iTunes for $5. Last year iOOTP 2011 came in second in the Community Awards for best mobile game.
• Added development estimate on minor league screen
• Added team info screen that can be selected on a team selection screen, to get an idea about a team before taking them over
• Added Randomize Cities button, only in the iPad version
• Added Playoff Round edit functionality, only in the iPad version
• Bug fixes, including the DH suspension bug and historical season schedules available again