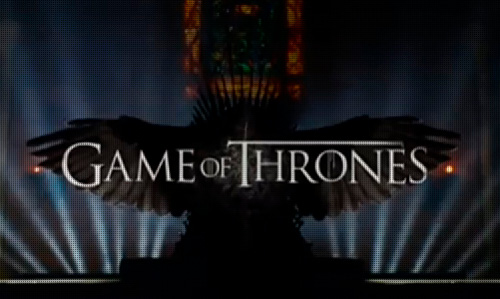 •Game of Thrones: Season 1
*Earlier releases were discontinued* Based on the bestselling book series A Song of Ice and Fire by George R.R. Martin, this sprawling new HBO drama is set in a world where summers span decades and winters can last a lifetime. From the scheming south and the savage eastern lands, to the frozen north and ancient Wall that protects the realm from the mysterious darkness beyond, the powerful families of the Seven Kingdoms are locked in a battle for the Iron Throne. This is a story of duplicity and treachery, nobility and honor, conquest and triumph. In the Game of Thrones, you either win or you die.

•Boss: Season 1
Mayor Tom Kane (Golden Globe winner Kelsey Grammer) is King of Chicago, and he rules his domain with an iron fist. Deception, scandal, and betrayal go hand in hand with Kane's form of politics. As long as he gets the job done, the people of Chicago look the other way. Despite being the most effective mayor in recent history, Kane is hiding a dark secret. A degenerative brain disorder is ripping everything away from him, and he can't trust his memory, his closest allies, or even himself. Watch as Kane viciously fights battles on all fronts in "Boss" Season 1.

•Meeting Evil
Samuel L. Jackson and Luke Wilson star in Meeting Evil, an intense psychological thriller that will bring you face to face with pure terror. Jackson is Richie, a mysterious stranger who shows up at John's (Wilson) door asking for help with his car. All too soon, the mild-mannered John discovers he has become an unwilling passenger, trapped in a murderous ride through town and deep into the countryside. When Richie decides to pay a visit to John's wife (Leslie Bibb) and kids, John has no choice but to confront this sadistic and unpredictable killer – But saving his family will ultimately come at a terrible price.

•Jiro Dreams of Sushi
Jiro Dreams of Sushi is the story of 85-year-old Jiro Ono, considered by many to be the world's greatest sushi chef. He is the proprietor of Sukiyabashi Jiro, a 10-seat, sushi-only restaurant inauspiciously located in a Tokyo subway station. Despite its humble appearances, it is the first restaurant of its kind to be awarded a prestigious three-star Michelin Guide rating, and sushi lovers from around the globe make repeated pilgrimage, calling months in advance and shelling out top dollar for a coveted seat at Jiro's sushi bar. Jiro Dreams of Sushi is a thoughtful and elegant meditation on work, family, and the art of perfection, chronicling Jiro's life as both an unparalleled success in the culinary world and as a loving yet complicated father.

•Star Trek: The Next Generation – Season 1
Set in the 24th century, the exploits of the U.S.S. Enterprise continue as it explores the universe, seeking new life and new worlds.

•LA Kings: 2012 NHL Stanley Cup Champions
The Kings have been crowned! For the first time in franchise history, the Los Angeles Kings are Stanley Cup Champions. NHL Original Productions takes you behind the glass, on the bench, and into the locker room as the Kings embark on a historic journey through the regular season and battle the Vancouver Canucks, St. Louis Blues, Phoenix Coyotes, and New Jersey Devils during the Stanley Cup Playoffs. Backstopped by Conn Smythe trophy winner Jonathan Quick and led by captain Dustin Brown, dynamic forwards Anze Kopitar, Mike Richards, and defenseman Drew Doughty, Los Angeles defeated the top 3 seeds of the Western Conference en route to becoming the first 8th seed in NHL history to hoist the most coveted trophy in sports – the Stanley Cup. Exclusive interviews with players, coaches, and Kings legends provide an inside look at the most improbable championship run in NHL history. The cup has finally come to LA! Experience one of the most memorable championship runs with the 2012 Stanley Cup Champion Los Angeles Kings.

•Miami Heat: 2012 NBA Champion Highlights
You will feel the Heat, as an amazing championship season unfolds with sensational highlights, exclusive interviews and behind-the-scenes footage along with compelling bonus features. Watch as the Miami collection of star power lifts them to the top in this thrilling NBA Championship Film.

•WWE Undertaker: The Streak
It is the most impressive feat in the history of Sports Entertainment, and one that may never be duplicated. Nineteen times Undertaker has stepped in the ring at the Showcase of the Immortals, WrestleMania, and 19 times he`s had his hand raised in victory. Undertaker has faced some of the biggest names in WWE history, including Shawn Michaels, Triple H, Ric Flair, Edge, Kane, Batista, Randy Orton, and more, and always claimed their souls. Now for the first time ever, every match in its entirety is collected in one release: Undertaker: The Streak. In addition to every match, this collection also includes a never-before-seen documentary discussing the historic, unprecedented run.