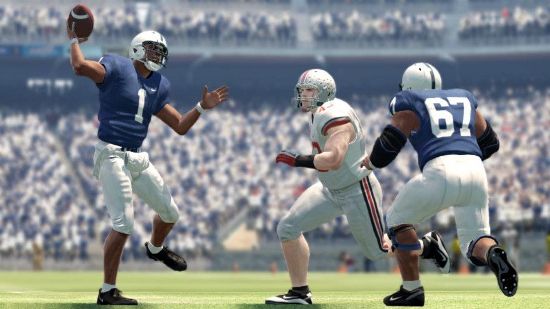 Like all leagues and organizations the NCAA has a desire to project a positive image through their licensed products which include video games. With the unprecedented nature of what has happened at Penn State though that should be changing.
Huge sanctions have been levied on the university and they absolutely need to be reflected in the NCAA Football series going forward. 
Penn State earlier today received penalties by the NCAA including a four year bowl ban, loss of  20 scholarships each year for four years, and $60 million fine. For years now the NCAA Football series from EA Sports has avoided implementing any sanctions against schools or even referencing them because the NCAA hasn't allowed it. There have been no bowl bans in place for those facing them in real life and no affect on number of scholarships from one school to the next.
Given the situation with Penn State however the NCAA will want to get the message across in any way possible that what happened is not going unpunished. That should include the video game which is yet another avenue to inform people of what that means for the university. There is no hiding from what happened and avoiding it in the game would justify some huge criticism.
While it's a shame that many people who had nothing to do with the scandal will be affected make no mistake about it they are not the victims in this story. It's the children who had their lives shattered by a sick man who was allowed to prey on them by those in control who instead chose not just to turn their head but protect him. There was distinct lack of institutional control from top to bottom. The players who won't get to play in bowl games or the fans or students who won't get to support their team in them are not the concern.
It may not be possible but EA should investigate patching in the penalties for NCAA Football 13. They'd surely get media exposure for doing so making it a venture they would consider. More reasonably though NCAA Football 14 should carry with it the sanctions that absolutely will have a huge effect on the program immediately and for years to come. The inability to go to bowl games and conference championship games needs to be in place, the loss of scholarships evident in the recruiting process, commentary addressing the circumstances included, and even pitch grades for recruits should be adversely affected – the school should be a far less desirable place for them to consider in Franchise mode.
Surely some of the athletes will be transferring to different schools. This is one area where EA would not be able to reflect the changes for this coming season regardless of what happens. Since the rosters are not supposed to be based on real players they can't offer roster "updates" that would move players to different teams. Future years obviously though will reflect a weaker Penn State based on the make-up of the roster.
It would not just be awkward but disrespectful to have Penn State in the NCAA Football series like any other school as though nothing had happened. Having them face the penalties is another way of sending the message that what occurred there was so horrifying that there is no escaping the reality of the situation. The NCAA will want those penalties to be known by all means possible and should encourage EA to accurately reflect the reality of the school's football program in the video game.