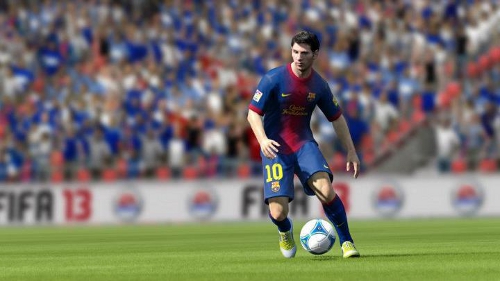 It's been a significant week for FIFA 13 news as EA Sports announced career mode details and the introduction of Skill Games while also showcasing the Kinect for Xbox 360 integration. Along with those specific releases the company has also provided the comprehensive features list which offers a summary of the improvements to the game. Continue on for the full feature descriptions.
FIFA 13 captures all the drama and unpredictability of real-world football. The game creates a true battle for possession across the entire pitch, delivers freedom and creativity in attack, and connects fans to the heartbeat of the sport — and to each other — through EA SPORTS Football Club. FIFA 13 features five breakthrough gameplay innovations which revolutionize artificial intelligence, dribbling, ball control and physical play, as well as engaging online features and live services. FIFA 13 is Football's Social Network, where fans connect, compete and share with millions of others around the world.

All-new Attacking Intelligence infuses players with the most sophisticated artificial intelligence ever achieved. Players have the ability to analyse space, work harder and smarter to break down the defence, and think two plays ahead. Now every touch matters with the most comprehensive and intuitive dribbling system ever developed for the franchise. Inspired by the world's best player, Lionel Messi, Complete Dribbling enables players to face their opponent and use precise dribble touches combined with true 360° mobility with the ball, so it's easier to be more creative and dangerous in 1v1 opportunities. FIFA 13 First Touch Control transforms the way players control the ball, eliminating near-perfect touch for every player on the pitch, and creating more opportunities for defenders to win back possession. The second generation of the Player Impact Engine expands physical play from just collisions to off-the-ball battles between players. Defenders can push and pull for position, and utilise their size and strength to force opponents into poor touches and decisions before the ball arrives. FIFA 13 Tactical Free Kicks provides the tools to create dangerous and unpredictable free kicks. Position up to three players over the ball and utilise dummy runs and more passing options to outwit your opponent.
KEY FEATURES
Attacking Intelligence
All-new positioning intelligence infuses attacking players with the ability to analyse plays, and to better position themselves to create new attacking opportunities. Players will work harder and smarter to break down defences, make runs that pull defenders out of position, and open passing channels for teammates. Plus, players possess an off-the-ball vision and the ability to think two plays ahead to create, curve, or alter runs to capitalize on openings as they occur.
Complete Dribbling
Make every touch matter with complete control of the ball. Take on defenders with the freedom to be more creative in attack. Players are more explosive accelerating with the ball, and utilise precise dribble touches with true 360° mobility with the ball while facing a defender. Face an opponent to threaten attack while moving with the ball in any direction to dodge tackles, or turn and shield the ball, holding off defenders for longer stretches.
FIFA 13 First Touch Control
A new system eliminates near-perfect control for every player by creating uncertainty when receiving difficult balls. Poor passes are harder to control, enabling defenders to capitalize on errant balls and poor touches. Factors such as defensive pressure, trajectory of the ball, and velocity of the pass all factor into a player's success. Players with better control and skill stand out. Fewer perfect touches, the potential to over hit passes, more loose balls, and greater balance between defending and attacking.
Player Impact Engine
The second generation of the award-winning physics engine expands physical play from just collisions to off-the-ball battles, giving defenders more tools to win back possession. Defenders can use their body to win possession, push and pull for position, and utilise their size and strength to force opponents into poor touches and decisions before the ball arrives.
FIFA 13 Tactical Free Kicks
Create dangerous and unpredictable free kicks. Position up to three attacking players over the ball and confuse opponents with dummy runs, more passing options, and more elaborate free kicks. Opponents can counter by adding or subtracting players to the wall or sending a bullet man to intercept the pass or block the shot.
Career Mode
Compete for club and country in an expanded Career Mode that now includes internationals. Play for or manage your favorite national team, competing in friendlies, qualifiers and major international tournaments. Play as manager and secure an offer to coach any national team, with bigger decisions and more pressure. Compete as a player and prove yourself at the club level to attract national team attention and the call to play for your country. At the club level, new Transfer logic adds a multitude of new factors that shape a player's true market value. Form, performance, and morale influence a player's base value to begin negotiations that now include counter offers, player and cash transactions, and squad roles. Player loans, Board interactions and mid-season manager firings add to the drama. Plus, unlock new features like Edit Player or Rematch in the EA SPORTS Football Club Catalogue.
Skill Games
Learn or master the fundamental skills necessary to compete at FIFA 13 in a competitive and addictive new mode. Become a better player, faster, no matter what your skill level. Compete against yourself or friends in 32 mini-games, perfecting skills such as passing, dribbling, shooting, crossing and more. Hit targets, loft balls into cans and dribble through obstacle courses, collecting points and beating the clock as you progress through three levels to the Skills Challenge. Earn achievements, trophies, and XP while securing a global ranking and perfecting your skills.
EA SPORTS Football Club
Earn rewards, level up, enjoy live Challenges based on real-world soccer events, and connect with friends. Everything within FIFA 13, and against friends, is measured in a meaningful way. Earn rewards to unlock items like kits, special celebrations, Virtual Pro Attribute Boosts, and Career Mode Super Scout Credits from the new Football Club Catalogue. Plus, build status as you climb 100 levels. Real-world storylines drive regular challenges so that FIFA 13 will play like the real-world season. Support Your Club and compete against rivals in every area of the game, lifting your club higher in the league tables or helping them avoid relegation.
EA SPORTS Football Club App For iPhone
Access your Football Club identity and friends, manage your FIFA Ultimate Team, search the live auctions and bid to win new players.
Complete Authenticity
500 officially licensed clubs and more than 15,000 players.