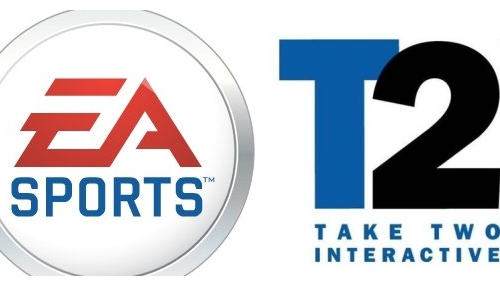 Both Electronic Arts and Take Two reported their first quarter (April-June '12) fiscal year 2013 financials today. There are a few pieces of sports related news to draw from the reports. 
EA has announced that pre-orders for Madden NFL 13 are up 25% compared to the same period for Madden NFL 12. The reasons for that likely include perceived strength of the product featuring coveted advancements like the "Infinity Engine" physics and Connected Careers mode, positive word of mouth coming off Madden NFL 12, fairly compelling pre-order incentives offering various legends for use in Connected Careers and Ultimate Team along with an Andrew Luck card for the latter, and deals like Amazon is offering by including a $15 promo credit with each pre-order. There could also be some money going towards Madden that otherwise would have been spent on NCAA Football 13 as early indications are that title will be down year-over-year.
NBA Live 13 is a glaring omission from the EA release schedule and that will add fuel to the fire that something is going on with it behind the scenes. Whether that is a cancellation, delay, change in format of release, or just the company dragging their feet in a fashion they never have before remains a mystery. What was discussed early in the month – with the game not being up for pre-order on Origin and retailers seemingly not even aware of a release date among other oddities – has not been resolved. EA has avoided responding to questions regarding Live 13 and notably have not been promoting it since the night of the NBA Draft. That EA doesn't seem to care about the current perception towards the product is possible telling enough in itself.
FIFA Ultimate Team continues to rake in revenue for EA. The mode has made over $100 million since release last September and in the latest quarter, which comes in what normally would be a declining period after having been on the market for 6 months, it made $30 million.
Take Two again presented their fiscal year release schedule. The MLB 2K series, which is thought to be dead following the events of the previous quarter's report, was absent again as expected. The company has not publicly buried it but there is little question that the series is over. NBA 2K13 remains the only 2K Sports title planned for release through the end of March 2013. The Wii U version is still scheduled for the holiday season with Nintendo yet to officially announce the release date for the system.