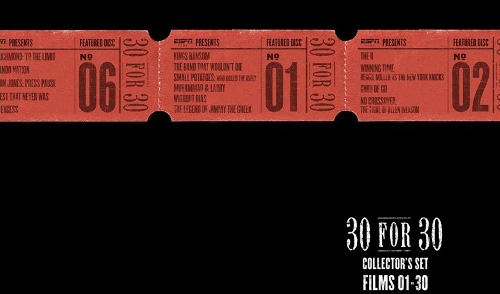 ESPN and Netflix today announced that the award-winning 30 for 30 series of documentaries are now available to watch through Netflix streaming service.
ESPN Films presents an unprecedented documentary series in celebration of ESPN's 30th anniversary, by engaging some of today's finest storytellers to create films centered on the last 30 years in sports. Some of Hollywood's finest directors and producers such as Peter Berg, Barry Levinson, John Singleton, Ice Cube, Spike Jonze and Frank Marshall are among those participating in the "30 for 30" films project, exploring topics ranging from the end of the USFL to the title fight between Muhammad Ali and Larry Holmes to the story of the Baltimore Colts Marching Band which continued to march even though the team had moved to Indianapolis. Each filmmaker brings their passion and personal point of view to their film detailing the issues, trends, athletes, teams, rivalries, games and events that transformed the sports landscape from 1979 to 2009. Whether played out on the field, in the ring or on the court, every great sports drama is ultimately a human tale of conflict, determination, passion, triumph and loss. These films represent an extraordinary and diverse mosaic of the impact of sports on America and world culture.
Among the films available now through Netflix Instant are favorites like Pony Excess, Unguarded, The U, Straight Outta L.A., and Catching Hell. All 30 films in the collection are included as of today for viewing.