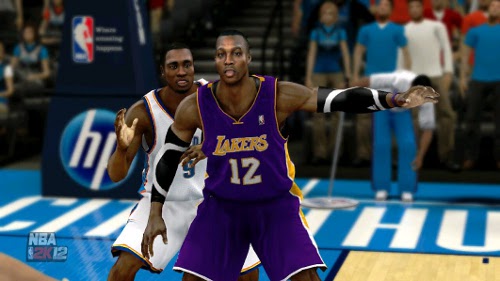 The Dwight Howard drama appears to finally be coming to an end as reports are that the Orlando Magic, Los Angeles Lakers, Philadelphia 76ers, and Denver Nuggets have agreed to a deal which the league will be reviewing Friday morning. The trade will land Howard in LA, Andre Iguodala in Denver, and Andrew Bynum and Jason Richardson in Philly. The Magic will receive Arron Afflalo, Al Harrington, Moe Harkless, and one future first round pick from each of the other three teams. Orlando also gets to dump Richardson's salary by sending him away.
Howard has proven to be a major headcase which has made him into arguably the most unlikable player in the league. When healthy he is a force to be reckoned with on the court but his back issues, which resulted in surgery in April, could prevent him from being ready for the start of this season and could impact his performance level and reliability going forward.
In terms of NBA 2K13 the Lakers would look to be greatly strengthened by bringing in Howard and still being able to keep Pau Gasol. With Steve Nash and Kobe Bryant it'll be a starting lineup to be reckoned with. Denver gets better by adding Iguodala but their place in the deal has to be questioned in that they helped LA improve. Philadelphia will make out well only if they can sign Bynum to an extension. The Magic will be fairly dreadful but are clearly wiping the slate clean to try and build for the future. Earlier proposed deals, involving the Nets in particular but even the Rockets or Cavs, look to have been better for them though than what they got here.