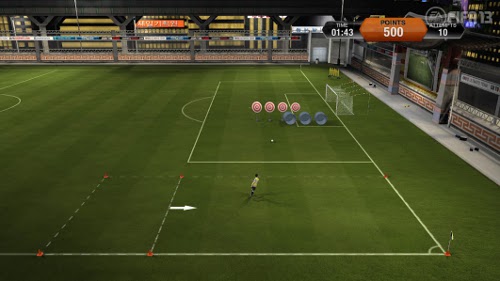 FIFA 13 introduces a new mode known as "Skill Games" and today EA Sports released a video spotlighting what are essentially mini-games intended to help improve abilities like shooting, passing, and dribbling while tracking scores and comparing to those turned in by friends.
Learn or master the fundamental skills necessary to compete at FIFA 13 in a competitive and addictive new mode. Become a better player, faster, no matter what your skill level. Compete against yourself or friends in 32 mini-games, perfecting skills such as passing, dribbling, shooting, crossing and more. Hit targets, loft balls into cans and dribble through obstacle courses, collecting points and beating the clock as you progress through three levels to the Skills Challenge. Earn achievements, trophies, and XP while securing a global ranking and perfecting your skills.
Some may view Skill Games as just be a fun diversion but for novices they could really prove valuable in terms of accessibility as users learn new abilities and get a feel for situational events without being limited to a sludge through a tedious and generally ineffective tutorial process. Continue on for the video and leave any thoughts in the comments!