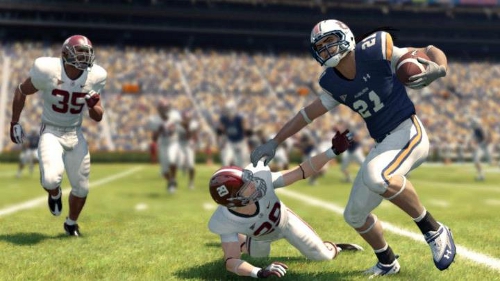 For the previous two iterations of the NCAA Football series EA Sports was quick to come out and announce sales increases in their respective opening weeks. The silence this year was just one indication that NCAA Football 13 was struggling to keep up the pace and in fact was dealing with a significant drop in sales. 
Opening month for NCAA 11 was up 8% over NCAA 10, while NCAA 12 then rose another 15% over NCAA 11. So while the series was growing the consumer base after a few years of stagnation it wasn't doing so at a rate that would protect against a down year. As expected NCAA 13 carried the month but worry over its future is warranted.
NCAA 12 opened with 796K copies combined between the Xbox 360 and PS3. Though the official numbers have yet to be produced the info I've received regarding NCAA 13 suggest a drop of about 12% year-over-year. This post will be updated once final data is realized.
EA relied almost solely on former Heisman winners in their marketing efforts. It's always difficult to tell what impact names from the past will have on sales but really only NBA 2K bringing in Michael Jordan has produced notable results. The reliance on legends is somewhat costly and if not integrated in a worthwhile fashion consumers have shown general indifference towards them.
Multiple retailers including Amazon dropped the price of NCAA 13 to $45 for pre-orders which did generate a surge of consumer interest but ultimately that meant a shifting of dollars to those retailers and not necessarily enough people on the fence being swayed by the lower price.
Reviews and word of mouth was also sub-standard. In many cases sales of yearly sports titles tend to reflect consumer's feelings towards the prior year's product. NCAA 12 was released with a myriad of issues and there was a high level of discontent generated – so a flat follow-up in the form of NCAA 13 was unable to sway those carrying those feelings back on board. Reviews of NCAA 13 have been poor (mine certainly less than glowing as well) putting it at a level rated below any NCAA release in over 10 years. Madden NFL 13 has also overshadowed the release with major advancements while NCAA 13 showed a distinct lack of ambition.
The NCAA series is now on very shaky ground. Without a strong digital revenue source – which makes sales numbers that much more critical than for other titles like Madden or FIFA –  while facing player likeness lawsuits and giving up the exclusive rights to college football EA is going to have a difficult time reestablishing the franchise's viability if they continue to reduce resources and produce a second-class product.