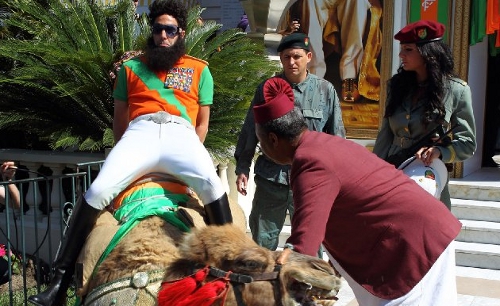 •The Dictator: Banned and Unrated Edition
The creators and star of Borat bring you the jaw-dropping comedy about what happens when the world's worst dictator comes to America. Stuck in New York and stripped of his power, Aladeen (Sacha Baron Cohen) is finally forced to live his ultimate nightmare…the American dream. Get ready to laugh ʻtil it hurts with the uncensored cut, featuring never-before-seen footage, that's "outrageous and shamefully funny!"

•Bernie
In the tiny, rural town of Carthage, TX, assistant funeral director Bernie Tiede was one of the town's most beloved residents. He taught Sunday school, sang in the church choir and was always willing to lend a helping hand. Everyone loved and appreciated Bernie, so it came as no surprise when he befriended Marjorie Nugent, an affluent widow.

•Wargames
First time on Blu-ray. Matthew Broderick (Ferris Bueller's Day Off) and Ally Sheedy (The Breakfast Club) star in this compelling drama filled with action, suspense and high-tech adventures! Featuring superb performances by Dabney Coleman and Barry Corbin, WarGames is "brilliant…funny…and provocative" (New York)a fast-paced cyber-thriller. Computer hacker David Lightman (Broderick) can bypass the most advanced security systems, break the most intricate secret codes and master even the most difficult computer games. But when he unwittingly taps into the Defense Department's war computer, he initiates a confrontation of global proportions World War III! Together with his girlfriend (Sheedy) and a wizardly computer genius (Tony Awardr winner John Wood), David must race against time to outwit his opponent…and prevent a nuclear Armageddon.

•The Rescuers: 35th Anniversary
To commemorate the 35th anniversary of an original classic, Disney proudly presents a special 2-movie collection featuring all-time family favorites, The Rescuers and The Rescuers Down Under. Join two of the world's bravest mice – Bernard and Bianca – as they set out on two thrilling rescue missions full of comic adventure while soaring through the Devil's Bayou and flying sky high in the Australian outback. Buckle up for the ride of your life as these tiny heroes with great big hearts outrun and outwit their rivals to save the day. Brimming with lovable characters and unforgettable music this 2-movie collection is high-flying fun for the entire family!

•The Aristocats: Special Edition
In the heart of Paris, a kind and eccentric millionairess wills her entire estate to Duchess, her high-society cat, and her three little kittens. Laughs and adventure ensue as the greedy, bumbling butler pulls off the ultimate catnap caper. Now it's up to the rough-and-tumble alley cat, Thomas O'Malley, and his band of swingin' jazz cats to save the day.

•Pocahontas: Two Movie Special Edition
In the tradition of Disney's musical masterpieces, Pocahontas and Pocahontas II: Journey To A New World bring to life a fun-filled adventure of hope, courage, and friendship. Now these beloved animated tales burst with "all the colors of the wind" for the first time ever in vivid high-definition. Experience the vibrant animation, amazing music, and spirited adventure like never before with both movies! Featuring an all-star cast of voice talent, award-winning music and songs, and new bonus to delight the entire family.

•Revenge: Season 1
Beneath the luxurious lifestyle of the Hamptons, lies a dark, dirty secret and a twisted tale of passion, suspense, and ultimate redemption. Enter the alluring world of the rich and ruthless with ABC's Revenge: The Complete First Season. Wealth, beauty, and power define the residents of New York's most exclusive community, but one woman will stop at nothing to exact revenge from those who ruined her father's life. Witness Emily Thorne's (Emily VanCamp) brilliantly vindictive plot against Victoria Grayson (Madeleine Stowe), the reigning queen of the Hamptons, and all who destroyed her family. However, even the best-laid plans can unravel in the wake of an unexpected love triangle between Emily, the son of her greatest nemesis, and a forgotten face from her past. Experience all 22 episodes of ABC's sensational new series, plus exclusive bonus features that draw you deeper into the mystery. It's riveting entertainment that holds you in its grasp from the very first thrilling episode to the season's final climactic moment!

•House: Season 8
Two-time Golden Glober winner Hugh Laurie is back one last time as TV's favorite misanthrope Dr. Gregory House in the hit series' eighth and final season. When House returns to Princeton-Plainsboro Teaching Hospital after an unconventional release from his prison sentence, he finds himself under a surprising new chain of command and dealing with personnel changes to his staff. Together, House and his new team take on the most baffling medical cases yet and face challenges of both the mind and heart as this television phenomenon comes to a close with these final 22 gripping episodes from this beloved and brilliant show.

•NCIS: Season 9
The ninth season of NCIS introduced several new recurring guest stars, most notably Dr. Samantha Ryan, a love interest for Gibbs. By the end of the season, a major terrorist threat is set in motion against the Navy, putting everyone's lives in danger.

•The Closer: Season 7
The final season of the critically acclaimed series stars Emmyr winner Kyra Sedgwick as Deputy Police Chief Brenda Leigh Johnson, a top-notch investigator who has put some of Los Angeles' most brutal killers behind bars. With her keen investigative instincts and brilliant interrogation techniques, Brenda often closes her cases by eliciting a confession or cornering a suspect through sometimes-questionable methods. Now, her career may be on the line as a result of her frequently unorthodox methods, and her tactics are coming under the scrutiny of the L.A.P.D.'s new Chief of Police, who is on the verge of announcing an extensive reorganization that could spell the end of Major Crimes. Joining the series in a starring role this season is two-time Oscarr nominee Mary McDonnell as Captain Sharon Raydor.