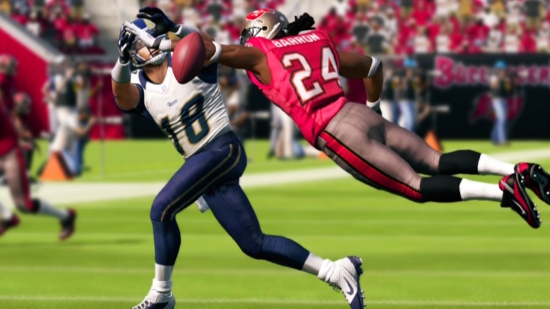 The new Connected Careers mode for Madden NFL 13 – which encompasses what used to be Franchise and Superstar modes – is so large in scope that even EA Sports has struggled to communicate what it represents. Essentially both modes are now housed in the same area and have all the same features while also being enabled as online leagues. A new progression system consisting of XP drives the advancement of players while a news hub brings the events of the league into focus.
For this profile of Connected Careers as a coach I played an entire season, every snap of every game, with the settings on default All-Pro with 11 minute quarters. Then played through the off-season heading into year two. 
The first thing that is done when setting up a Connected Career is to decide on whether it will be "offline" or "online". There are benefits to making it online like the tie-in of the league website and the ability to add other owners later even if the plan at the time wouldn't be to create an online league. The downside is that a constant connection to the EA server is required. If, for any reason, the server drops out during a game in progress (even against the CPU) it would not count and would have to be restarted.
League settings include the ability to change difficulty, set quarter length, accelerated clock, game speed, player progression frequency, the trade deadline, and much more. All of these things are the same whether played offline or online. If going with the online league however there are additional options such as setting the max number of users (up to 32), determining whether it'll be for Coaches, Players, or both, and whether legends are allowed in.
Next comes choosing to be a "Coach" or a "Player". Going with Coach is essentially what Franchise mode used to be – having control over all operations of a club and the team on the field – while taking on a Player is more what Superstar mode has been. After choosing Coach the option is there to create a new coach from scratch or using the Game Face feature, take over a current coach, or use a legendary coach.
Then a backstory has to be chosen if a new coach is selected. There are pluses and minuses that come with each style. For coaches there are three backstories: motivator, strategist, and team builder. That is followed by choosing playbooks, offensive, and defensive styles. If taking over a current coach these steps are skipped.
Unfortunately it was after setting up a league that it became clear Game Face was broken – at least with my character as I'm not sure if it's a problem with the feature or just something to do with the circumstances of mine. Setting things up, navigating the menus, and attempting to enter practices were causing the game to freeze. Later I realized that the League Settings page never even appeared during the process. I verified the problems by setting up an "offline" CC also which did not work. At that point I just restarted by taking over current Bucs coach Greg Schiano.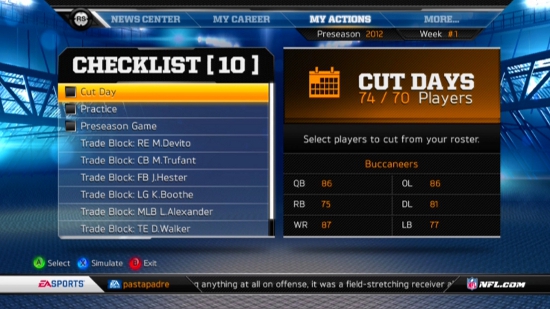 Preseason
Things begin in week one of the preseason. Within the menus – which it takes some time to figure out where things are hidden – there is a list of tasks to complete for the week. One of those things at the start featured players who were on the trading block.
I attempted to acquire Marcus Trufant for a late round pick. He ended up being traded to the Texans instead. I then went hunting for a "Transaction Log" to see what he went for – the announcement of his move to Houston was made in a news story and commented on in the Twitter feed but no further details provided – only to learn that there is no transaction log. That is one of the more glaring omissions from Connected Careers. There also doesn't seem to be a "League Leaders" page.
One thing I liked immediately was, after throwing out a trade offer, seeing that player mentioned by someone in the Twitter feed referencing a rumor that (the player I was attempting to acquire) could be moved.
Unfortunately it seems that some events within Connected Careers are scripted. After starting up several it became clear the same players move to the same teams or sign extensions. Trufant always goes to the Texans. Donovan McNabb is always signed by the Vikings. And there are many of these that occur throughout the season. Of course other elements will always be dynamic and based on the performance of the teams and players and those who get injured.
Seeking another quality defensive back I signed Chris Johnson out of free agency. The first cut day required dropping from 74 players to 70 – by the end of preseason that number of course has to be down to 53.
Each week has the opportunity to practice which is also a chance to earn extra XP for players. There are a number of different scenarios and each one has its own difficulty levels and earnings that come along with achieving the feat described. Ultimately I found these to be too time consuming and just simmed them. In a slower paced career I might consider spending the time in them. They're not easy though – just as tough as playing the actual games.
Preseason Games are still comical. Each unit switches at the quarter marks even if that comes mid-drive. Players down on the depth chart will find themselves in the game even if they really shouldn't be. Star players will show back up on the field at other positions where they are way down on the chart risking injury. Special teams even makes the swap – it's hard not to notice when the opposing team's punter (who's not the punter) boots a 4 yarder. There's no special presentation in the preseason or unique commentary.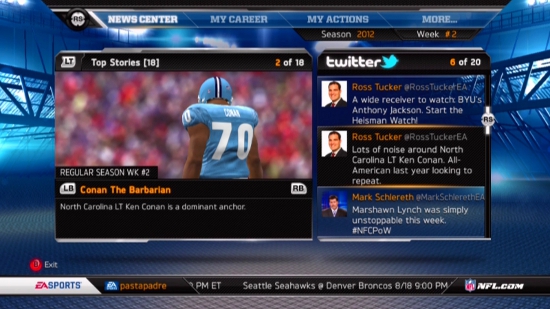 Regular Season and Post-Season
The Bucs entered the season with two players showing up on the injured list: Eric Wright (3 weeks) and Donald Penn (2 weeks). Injuries over the course of the season were never that prominent. Checking teams throughout the year they would have anywhere between no players on the list and 5 – with wide ranging severity. What seemed to be missing was a number of players getting nicked up and missing a week or two. Most of the injuries were either significant (out for the year) or something they'd return from later in the game. There did seem to be more injuries in the second half of the season than the first – which could be nothing or maybe a sign of wear on the players from the season.
Throughout the season players would identify themselves in the task list as being ready to negotiate a contract extension. I only attempted to extend one player – Aqib Talib – and he took an offer that was less than what his desired salary would be.
Players and coaches earn XP for their performance on the field and meeting game and season goals. Even though it was giving out XP on a weekly basis I found it best to progress players in chunks. I ended up doing that mid-season and after the final regular season game.
One thing I'd like to see in the future is for players signed off free agency during the season to have an acclimation period where they don't play up to the heights of their ratings. This could be something like 1-3 weeks where they'd have lower ratings. When I lose someone and can grab a player off free agency with ratings near or above theirs, and they come in and play like they've been there all along, it really reduces the impact of losing that original player.
Pretty much all attempts to make trades were declined by the other teams. It seems fairly difficult to pull them off – it's hard to get a feel for what the CPU wants and how close your offer comes to that. In a test league I offered up a likely to be high first round pick for Mike Wallace (Steelers turned down) and Mark Sanchez (Jets accepted). The trade block works really well though. Putting your player on the block will bring about a number of offers from other teams to choose from (or that player may not get any interest at all) including players, picks, or a combination of both.
The news feed and Twitter feed are fun additions. They really bring into focus some of the goings on around the league. There are even some things that are said in the Twitter feed that made me laugh. I also enjoyed that in the initial CC attempt Skip Bayless praised my signing of Chris Johnson, and when I had to restart and made the same move, he mocked me for it.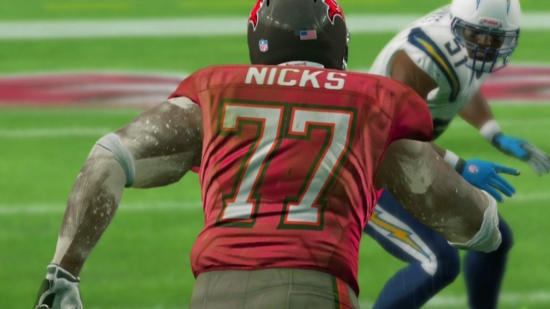 vs Panthers W 13-10 (1-0)
at Giants L 20-14 (1-1)
at Cowboys W 16-10 (2-1)
vs Redskins W 17-9 (3-1)
vs Chiefs W 27-13 (4-1)
vs Saints W 34-31 (5-1)
at Vikings L 27-24 (5-2)
at Raiders W 20-3 (6-2)
Lost Vincent Jackson for season to injury. Was on pace for 80+ catches and 1500 yards.
vs Chargers W 30-10 (7-2)
Signed Mike-Sims Walker. Michael Bennett 6 sacks. Lost two tight ends + WR for game.
at Panthers W 34-24 (8-2)
Released Desmond Wynn and signed Scott Chandler for TE depth.
vs Falcons L 20-13 (8-3)
at Broncos W 23-16 (9-3)
vs Eagles L 24-17 (9-4)
at Saints L 27-23 (9-5)
vs Rams W 27-9 (10-5)
vs Falcons W 31-13 (11-5)
Both 10-5 going into game for division crown. Loser got Wild Card.
vs Cardinals (Divisional Round) W 31-27
Bennett 6 sacks. Come from behind win.
at Giants (NFC Championship) L 23-13
Got sacked 11 times. Giants D-Line was beastly.
The Giants went on to beat the Bills 27-20 in the Super Bowl, after which Tom Coughlin retired. There are other surprises in store that I don't want to spoil.
The Bucs finished the regular season ranked as the #1 defense and the #25 offense. That goes to show how the CPU fares on All-Pro. Check out full gameplay impressions for much more on assessing the CPU's effectiveness.
Coach Schiano got a contract extension at the end of the season which came with 25K XP and a level up.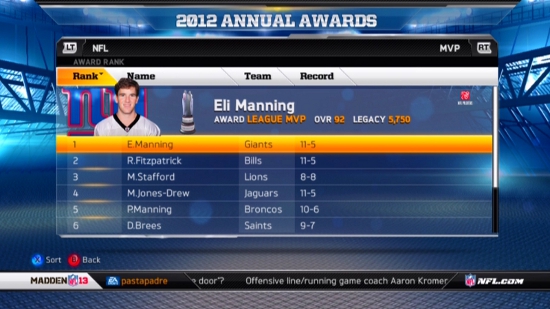 Progression
As stated earlier progressing players in chunks made the most sense. This is especially the case if saving up for more expensive attribute boosts or packages. There is a neat sense of strategy in deciding to spend the XP on cheaper attributes or hoarding them to make a big purchase that may have more immediate impact. Beyond just moving attributes up a point packages can include acquiring player "traits" and special skills.
Coaches also receive XP based on meeting goals. This XP can be used on things like improved ability to talk certain players out of retirement, boosting the XP that the players earn, getting enhanced ability to talk free agents into signing with the team, or even doubling the amount of scouting points provided every week.
The XP costs appear to be well balanced. Attributes already high, and those that are most desired, can be very costly. Boosting a player in other areas can be cheap. That leaves a lot to strategy on how to build the players up.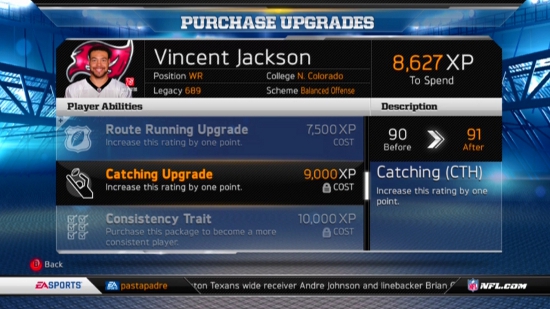 Here are how some of the Bucs players progressed (or regressed) from the beginning of the season, to the end, to the start of the 2013 season
Josh Freeman 82 to 86 to 85
LeGarrette Blount 79 to 83 to 82
Doug Martin 76 to 78 to 78
Dallas Clark 81 to 78 to 75
Vincent Jackson 89 to IR to 91
Mike Williams 78 to 83 to 83
Arrelious Benn 73 to 79 to 79
Michael Bennett 81 to 84 to 84
Mason Foster 74 to 78 to 78
Ronde Barber 86 to 84 to Retired
Mark Barron 80 to 78 to 78
It's curious that Barron, who won NFC Defensive Rookie of the Year, actually slipped in ratings. Otherwise Clark and Barber, who are getting up there in age, make sense to have regressed despite spending XP on them too.
Presentation
While commentary, and basic presentation, as a whole is improved in Madden NFL 13 it falls short within Connected Careers. Jim Nantz and Phil Simms will open games with generic references to where the game falls – season opener, holidays, playoffs – but they never cite where the two teams stand within the league or their history with each other. For example the second Bucs vs Falcons game opened with talk of revenge – with Simms then saying that would be the incentive for "the one team that lost" and not which team that actually was.
Michael Bennett broke the sacks record but that wasn't even pointed out by the commentary team or with an on-screen display of the feat. In fact there really are no ties to the league or events going on within the games other than the beginning when season stats for the QBs are displayed. The commentators don't even talk about where teams sit in the division standings, current records, or playoff picture and neither are there any on-screen graphics for them.
Where Madden 13 does a great job is tying those league events into something within the hub by using the news feed and Twitter feed. Unfortunately once actually in the games there is nothing drawing back to that – no score ticker, no studio updates, no current standings, no playoff picture – nothing. It's a very detached feeling when playing the games vs when in the hub.
The playoffs introduce the home team entrance which was in Madden 12 but is gone from the regular season games in Madden 13. There are again some commentary references to it being the playoffs but nothing to really make it feel like there is any acknowledgement of the two teams playing or how they got there. Playoffs screen wipes and extra flash bulbs in the crowd account for the rest of the enhancements. The crowd doesn't seem to be amped up any more than usual. In fact the stands at MetLife Stadium were half empty for the NFC Championship game – presumably because it was raining. That's inexcusable.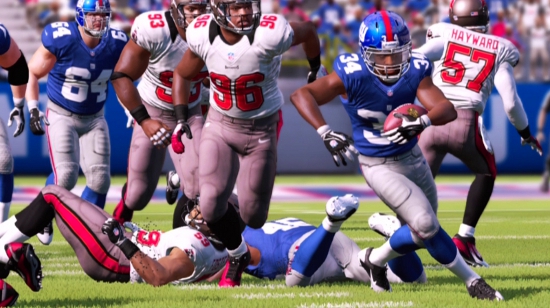 Scouting
Scouting takes place during the regular season and then prior to the draft. Like progression it's something that can be done on a weekly basis or to be completed in chunks as the 2000 XP per week will add up.
Each player already has their "Production" and "Size" ratings displayed. I suppose these basically represent what they did in college and at least some sense of measurables. It would be helpful to get other areas, like speed, that are publicly available but unfortunately that and many others cost XP to scout.
Selecting a category will reveal a general range of what to expect in their final ratings – while going over it a second time (which costs a lot more) will display their actual rating. I found it possible to get a feel for whether the player was someone I'd be interested in or not just by examining a couple areas that I deem important based on the team's scheme and how I play.
The big question is whether 2000 XP (which becomes 3000 during the free agency period of the offseason) per week is enough to allow one to properly scout a realistic number of players and not feel as though selecting them in the Draft is basically just a crapshoot. It's probably as intended but the cost to find out a player's overall rating is huge. I didn't dive in for that on any single player. Maybe if I anticipated drafting in the top 10 that would be different. Instead I tried to spread out the use of XP across many positions and ranges within the draft. Another thing to remember is the option to spend coach XP on increasing the amount of scouting XP earned. That may be the way to go down the line.
Having storylines to follow during the season on prospects in the news feed is a nice touch – that adds a sense of investment in the players rather than just drafting on numbers. Pulling certain ratings and determining potential fit also contributes to a better feeling of comfort come draft day.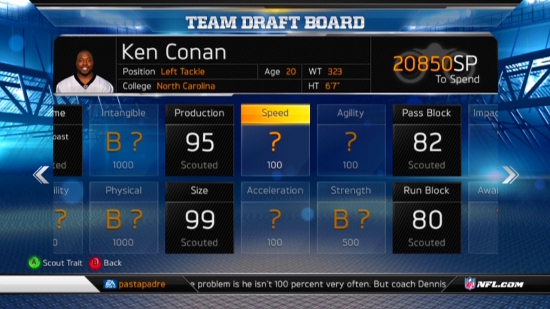 Free Agency
After the season ends its on to resigning free agents. In my case I was able to bring back a handful of players including Michael Bennett – though his demands of just $3.3 million a year seemed paltry for a guy who just broke the sack record – while Dallas Clark decided to reject my one year offer and hit the market. The CPU was also actively franchising players at this point.
Similar to how NCAA Football breaks off-season tasks into "weeks" that is what happens in Connected Careers for open free agency. There are four "weeks" where free agents can be signed. It's important to go in with a strategy for particular players as any contract that is submitted will carry over through the week progressing. Then that player (which has his own set of things he will be looking for – and attitude in signing right away or waiting) will have either signed with a team or remain available. At that point if he didn't sign with anyone the offer can be increased, withdrawn, or waited out.
For the Bucs there was no real opportunity to make a splash. I decided to shore up some areas just in case I wouldn't be able to come out of the draft with impact players at those positions. I signed LOLB Geno Hayes, TE Todd Heap, and kicker Nick Folk after the first week and had to wait out Brady Quinn until the second week. I lost out on Josh Cribbs to the Dolphins.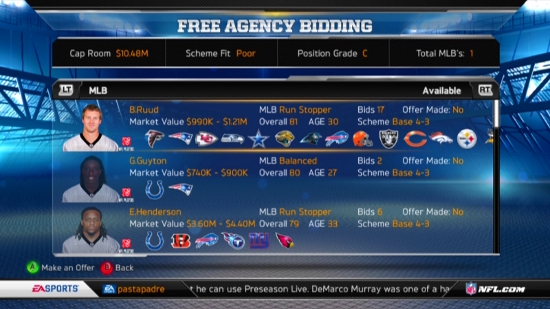 NFL Draft
The NFL Draft presentation screen is really sharp – it even includes the Twitter feed with messages being sent out on each selection. Trey Wingo provides some commentary – he goes into detail on (only) the draftees that had their backstories profiled during the season in the news feed and makes note of any moves and the current team on the clock.
The structure of the draft is nicely laid out with the ability to trade up at any time, or down when on the clock. You can advance one pick at a time, to the next user pick, through the round, or though the end of the draft. I would have liked to have the ability to just advance something like five picks instead of having to go one by one. The CPU was making trades between teams during the draft. It's unclear what was being sent for what – but teams were moving up and down throughout.
One thing that caught me off guard was not having the countdown clock on the "Draft Board" page. One of the picks I completely missed because of this – there was no warning beforehand that time was about to expire – so the CPU made the selection for me.
I entered the draft hoping to get a slot receiver, pass-catching tight end, pass rushing outside linebacker, nickel/dime corner, and possibly a replacement for Ronde Barber at free safety. I traded up in the first round (sent #29 and #125) for #23. Later I examined options on a trade down but didn't care for the offers being sent my way. I left the draft having accomplished three of the goals going in. It was a really enjoyable process – though in later rounds it definitely felt as though I was stuck just taking shots in the dark as most of my scouted players were gone.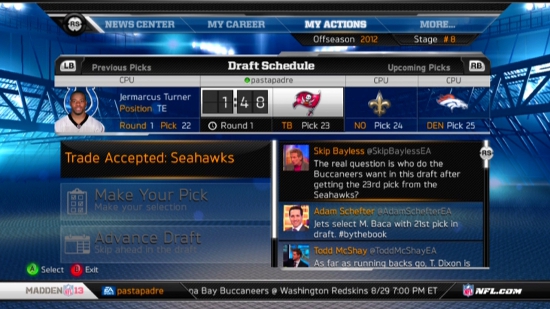 Other Notes
•Player ratings will fluctuate based on team schemes/fit. Did not have time to really examine this.
•Online leagues can auto-advance weeks when all owners are set to "ready".
•Remember this is a run through of the first year and off-season. It's unclear how things will hold up beyond then.
•The website had not launched by publish time. Will do write-up on that next week.
•The article on Connected Careers as a "Player" will be posted within the next couple days.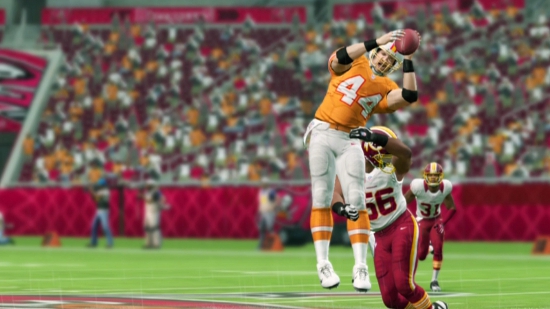 Summary
Taking on the role of "Coach" in Madden NFL 13's Connected Careers may feel overwhelming or intimidating to some based on how much is at hand (though the weekly task list helps) and the completely new structure that is startlingly different than standard Franchise of the past.
The news center is a valuable addition, the progression system is really well handled and adds a new element of strategy, the scouting has become much more useful, and the NFL Draft is a lot of fun. Certain omissions though sting and unfortunately hamper the experience, preseason games are a mess, and the presentation within games throughout the season leaves a lot to be desired. It's still an incredible step forward for Madden and one that displays a huge amount of potential for the future.
Check out over 100 Coach Connected Careers screenshots here – and complete gameplay and presentation impressions of Madden NFL 13 here. Look for online impressions next week and the full Hits and Misses review to follow!