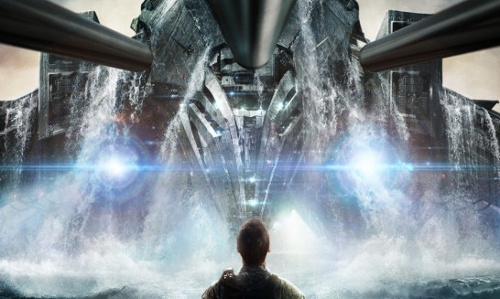 Battleship
The battle for Earth begins at sea in this epic action-adventure starring Liam Neeson, Taylor Kitsch, Rihanna, Alexander Skarsgard and Brooklyn Decker. An international naval coalition becomes the world's last hope for survival as they engage a hostile alien force of unimaginable strength. Ripping across sea, sky and land, Battleship is "a big bold blast", packed with spectacular visual effects and explosive action.

Think Like a Man
Four interconnected and diverse friends from a pick-up basketball league have their love lives shaken-up after the women they are pursuing buy Steve Harvey's book and start taking his advice to heart. For years women have been asking other women for advice when no one but another man can tell them how to find and keep a man. When the band of brothers find out that they have been betrayed by one of their own, they conspire to use the book's teachings to turn the tables. It's only when the truth is told by all parties that the couples finally get together for true love.

The Lucky One
Based on Nicholas Sparks' bestseller The Lucky One, Zac Efron stars alongside Taylor Schilling and Blythe Danner in this romantic drama directed by Academy Awardr-nominated writer/director Scott Hicks. U.S. Marine Sergeant Logan Thibault (Efron) returns from his third tour of duty in Iraq, with the one thing he credits with keeping him alive-a photograph he found of a woman he doesn't even know. Learning her name is Beth (Schilling) and where she lives, he shows up at her door, and ends up taking a job at her family-run local kennel. Despite her initial mistrust and the complications in her life, a romance develops between them, giving Logan hope that Beth could be much more than his good luck charm.

The Pirates! Band of Misfits
Set sail for a fun-filled voyage of hilarious pirate antics with the biggest Band of Misfits on the seven seas! When the infamous Pirate Captain (Hugh Grant) is shunned once again by his rivals Black Bellamy (Jeremy Piven) and Liz Cutlass (Salma Hayek), he sets his sights to win the coveted Pirate of the Year Award! With his trusted "parrot" Polly and rag-tag crew at his side, Pirate Captain will need to battle a diabolical queen, save a young scientist and never lose sight of what a pirate loves best: Adventure!

Starship Troopers: Invasion
A distant Federation outpost Fort Casey comes under attack by bugs. The team on the fast attack ship Alesia is assigned to help the Starship John A. Warden stationed in Fort Casey evacuate along with the survivors and bring military intelligence safely back to Earth. Carl Jenkins, now ministry of Paranormal Warfare, takes the starship on a clandestine mission before its rendezvous with the Alesia and goes missing in the nebula. Now, the battle-hardened troopers are charged with a rescue mission that may lead to a much more sinister consequence than they ever could have imagined….

Sons of Anarchy: Season 4
Ride full-throttle with the Sons of Anarchy into the most intense, adrenaline-charged season ever! Out of prison and back in business, SAMCRO faces a powerful new nemesis as they forge an unlikely alliance and head in a dangerous new direction. As a deadly internal power struggle rocks the club to its very core, Jax struggles with the legacy of his father and makes plans for the future of his family amid chaos, corruption, betrayal, and murder. Action-packed with electrifying extended episodes, Sons of Anarchy Season Four will take you for the ride of your life!

The Walking Dead: Season 2
Based on Robert Kirkman's hugely successful and popular comic book series, AMC's original series "The Walking Dead" is an epic, edge-of-your-seat drama where personal struggles are magnified against a backdrop of moment-to-moment crisis. A survivalist story at its core, the series explores how the living are changed by the overwhelming realization that those who survive can be far more dangerous than the mindless walkers roaming the earth. They themselves have become the walking dead.

Homeland: Season 1
Hailed as TV's best new drama by critics everywhere, the award-winning HOMELAND delivers compelling characters, thrilling twists and breathtaking suspense. Carrie Mathison (Golden Glober winner Claire Danes), a brilliant but volatile CIA agent, suspects that a rescued American POW may not be what he seems. Is Marine Sgt. Nicholas Brody (Damian Lewis) a war hero…or an Al Qaeda sleeper agent plotting a spectacular terrorist attack on U.S. soil? Following her instincts, Mathison will risk everything to uncover the truth – her reputation, her career and even her sanity. Packed with multiple layers and hidden clues, Season One offers something new every time you see it…watch carefully.

Once Upon a Time: Season 1
Relive the complete first season of ABC's Once Upon A Time, the hit series that boasts unforgettable characters and a tangled web of romance, action and enchantment. Immerse yourself in the magic and mystery of Storybrooke – a sleepy little town where every fairytale character you've ever known is frozen in time and trapped between two worlds, victims of an evil curse. Start your epic collection with all 22 captivating episodes, including never-before-seen bonus features, in this spectacular 5-disc boxed set.

Boardwalk Empire: Season 2
Atlantic City, 1921. In a city whose fortunes have soared in the wake of Prohibition, Nucky Thompson is paying a steep price for wielding ultimate power in "the world's playground." Though the 1920 election is over, Nucky finds himself the target of a federal investigation for vote tampering – and an insurrection by those he counted among his closest allies. Steve Buscemi stars in the hit drama series that charts the continued rise of organized crime at the dawn of the Prohibition.