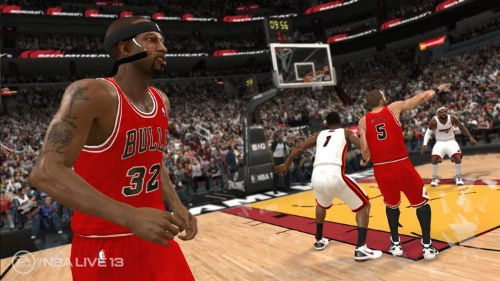 According to IRB Gamer, who is reporting out of the Gamestop Expo, NBA Live 13 will be a digital release this October. That it would be a downloadable title doesn't come as a surprise – the recent leaked footage supported that and all other signs before it have pointed that direction. It will probably be a big mistake to re-launch the series in such a manner, but coming in at a $20 price point could lead some to give it more consideration. That is what a a rep apparently told the site to expect.
There's no way to know if this statement comes from a source that would have absolute knowledge of release plans. There is still the very distinct chance that the game will be cancelled outright rather than dumped on the marketplace as an afterthought.
Releasing for $20 would not only signal that the product was sub-par in quality and features – though EA would likely try to sell additional ones as DLC – but it would come as a surprise that the NBA would allow the tactic and potentially harm the valuable relationship they have with 2K Sports. There may then be some other trade-off in play such as mandating NBA Live to release later in October rather than on the same day as 2K13.