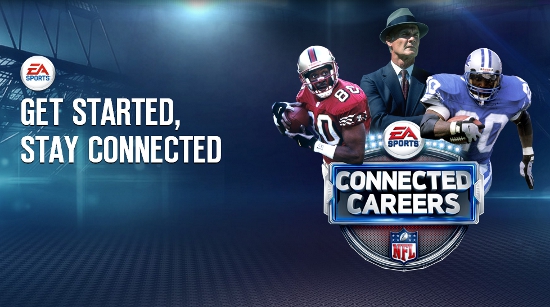 Though the website for Connected Careers mode in Madden NFL 13 went live last Friday with limited functionality there's quite a bit to take advantage of already with much more to come. The site is currently lacking the ways in which to interact with careers and instead is limited to viewing some stats and attributes along with a few really cool social features. 
All online enabled careers will be accessible through the site with the ability for those with multiple careers in progress to switch from one to the next with ease. The first screen once logged in focuses on the "Legacy Score" leaderboard which I'm not sure many will understand what it means or why it's front and center as though it's the most important thing to check out.
There are three main sections currently accessible. The first is My Career which displays stats for the current season for the "Player" in either chart or grid form. That player's current ratings in various attributes can also be checked out. As a "Coach" the full team stats are displayed in numerous categories. All stats appear to be limited to only the current season with no ability to view prior years or see a profile of a player or coach's entire career.
When playing as a coach there is the My Team area. That features the current roster with up-to-date overall ratings and a player card that when flipped over displays some information including the amount of XP they currently have in the bank. Multiple players can be selected to "Compare" with a page coming up to show all their ratings. Currently being limited to just the team being controlled, and not being able to pull up other players around the league, makes this pretty worthless. However come time when the entire league is available to browse though it will make for a nice way to come up with trade proposals or determine whether a move should be made.
The third area is My Actions which essentially acts as the task list from inside the game. It'll have alerts like what things need to be completed in the current week, players that have been put on the trade block, and results of various goals on the way to earning XP.
The most fun element of the website comes with the ability to tie social accounts to the league. In the "Social Settings" area of the site under "League Settings" there is the option to connect a Twitter or Facebook account (or both) to the career. Doing so with Twitter will send out all the in-game tweets from the career while Facebook will set up a "Group" – that one requires at least three users to be involved with the career.
I'd highly recommend creating a separate Twitter account for those who plan to use the feature rather than spamming people who may be following for reasons other than getting to read generated tweets from fake personalities. This, along with the Facebook groups, will be very nice additions for those within a league to follow.
I set up a Twitter account for the upcoming Coach Connected Career league for the site – check it out here – and populated it with recent tweets from the career that was used for the big impressions article.
There is also the ability to set up league notifications. This can be done through text messages or email (though that one isn't ready to go yet). It's completely opt-in and includes alerts like all owners having been set ready to advance and trade proposals having been made.
Sections still to come include League, Teams, and Players – which should provide that element of interaction that is missing right now from the site. It's disappointing that they weren't ready to go along with the release of the game. Features like the ability to progress players and complete trades have been advertised. Basics like adjusting depth charts and checking out league stats and standings should be expected. When everything is up and running those areas and anything else new will be examined in another article.