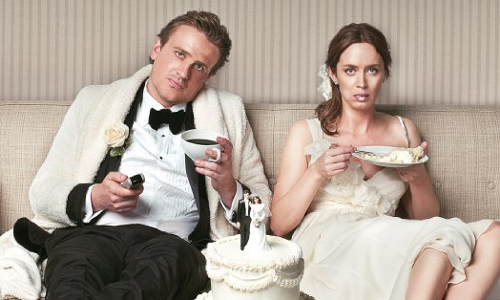 Piranha 3DD
Prepare for double the action, double the terror and double the D's. The prehistoric school of bloodthirsty piranhas are back and this time, no one is safe from the flesh-eating fish as they sink their razor sharp teeth into the visitors of summer's best attraction, The Big Wet Water Park. Starring Danielle Panabaker, Matt Bush, David Koechner, Chris Zylka, Katrina Bowden, Gary Busey, Christopher Lloyd and David Hasselhoff.

The Five Year Engagement
The director and writer/star of Forgetting Sarah Marshall reteam for the irreverent comedy The Five-Year Engagement. Beginning where most romantic comedies end, the new film from director Nicholas Stoller, producer Judd Apatow (Knocked Up, The 40-Year-Old Virgin) and Rodney Rothman (Get Him to the Greek) looks at what happens when an engaged couple, Jason Segel and Emily Blunt, keeps getting tripped up on the long walk down the aisle.

Safe
When a second-rate cage fighter, Luke Wright, is tormented by the Russian Mafia and wanders the streets of New York, he witnesses a young Chinese girl, Mei, being pursued by the same mafia who want her for a priceless numerical code that they would kill for.

Titanic: Limited 3D Edition
Experience Academy Award-winning director James Cameron's epic masterpiece Titanic like never before. Leonardo DiCaprio and Kate Winslet shine in this unforgettable love story born of tragedy that became a worldwide phenomenon. Take the journey and discover why critics declare Titanic "a magnificent motion picture that remains spellbinding".

Titanic: Collector's Edition Exclusive
Experience Titanic in stunning 3D with this exclusive 15th Anniversary Edition. Now on Blu-ray for the first time, James Cameron's sweeping masterpiece — and winner of 11 Academy Awards® including Best Picture — can be experienced like never before. Immerse yourself in the incredible journey with this definitive collection, including Blu-ray 3D, Blu-ray, over 6 hours of special features, 2 all-new documentaries, a souvenir book, passenger dossier, sketch postcards and more.

Fringe: Season 4
Who are you? After sacrificing himself to save both worlds, Peter mysteriously returns to ours. But he has been forgotten – by Olivia, by Walter, by everyone. It's as if he never existed. At the same time, shapeshifters controlled by an unknown master begin an onslaught of destruction, and now the two former enemy universes must cooperate to defy a common foe. Fringe's thrilling 22-episode fourth season continues the inspired series' synthesis of astounding phenomena, baffling secrets and dramatic, character-driven stories. And in this season, events may prove that the most powerful force in our universe – or theirs – is not a doomsday device, not a paranormal force, but human love.

Haven: Season 2
Former FBI Agent Audrey Parker (Emily Rose) discovers that the small town of Haven is really a secret refuge for people with supernatural afflictions. Now, it's up to her to unlock Haven's mysterious secrets. As seen on Syfy.

Grey's Anatomy: Season 8
Enjoy all the romance, laughter and heart-stopping moments of one of television's most celebrated dramas with ABC's Grey's Anatomy: The Complete Eighth Season. No matter how hot it gets – in the operating room or in the bedroom – the doctors of Seattle Grace know they can always lean on one another. As fifth year residents, it's do or die for the doctors, and things get bumpy when the chief makes a decision that rocks the entire staff. Relive every unforgettable love and loss of ABC's wildly popular series, containing all 24 episodes of season eight, plus never-before-seen bonus features. No Grey's Anatomy collection is complete without it!

The Good Wife: Season 3
THE GOOD WIFE is a drama starring Emmy Award winner Julianna Margulies as Alicia Florrick, a wife and mother who boldly assumes full responsibility for her family and re-enters the workforce after her husband's very public sex and political corruption scandal. In Season 3, Alicia continues balancing her professional and personal lives as she strives to provide a stable home for her children in the midst of separating from her husband and contemplating finally giving in to her feelings for fellow lawyer Will Gardner.

Criminal Minds: Season 7
CRIMINAL MINDS revolves around an elite team of FBI profilers who analyze the country's most twisted criminal minds, anticipating their next moves before they strike again. The Behavioral Analysis Unit's most prominent agent is David Rossi (Joe Mantegna), a founding member of the BAU, who returns to help the team solve new cases, while pursuing some unfinished business of his own. Each member brings his or her own area of expertise to the table as they pinpoint predators' motivations and identify their emotional triggers in the attempt to stop them.

Person of Interest: Season 1
Jim Caviezel (The Thin Red Line), Michael Emerson (Lost) and Taraji P. Henson (Hustle & Flow) team up in this thought-provoking crime action drama from The Dark Knight's Jonathan Nolan and J.J. Abrams' Bad Robot Productions (Fringe, Lost, Alias). Set in New York City, this procedural centers on an ex-CIA agent, presumed dead, who partners with a mysterious billionaire to prevent violent crimes. Using data siphoned off the U.S. intelligence agencies' threat matrix — information not related to terrorism, but rather violent crimes of a personal nature — during each episode, the former CIA agent and his enigmatic partner identify a "person of interest" and set about solving the mystery of the impending crime. Tapping into the world's Big Brother-like surveillance network, the shadowy duo knows that something bad is going to happen; it's their mission to discover what that event will be … and somehow prevent it.

2 Broke Girls: Season 1
One's street-smart and blue-collar born; the other's book smart and nouveau bankrupt. Together, unlikely roommates and unlikelier friends Max (Kat Dennings, Nick and Norah's Infinite Playlist) and Caroline (Beth Behrs) are two broke girls waiting tables in a Brooklyn diner while they're waiting for real life to begin. Saving $250,000 to open a cupcake shop won't be easy, but the pair's saucy humor and blossoming friendship make chasing the American dream a priceless adventure.

The Office: Season 8
Andy takes over as manager of Dunder Mifflin and finds the job to be more than he bargained for. He wants to win the respect of his employees, while going toe-to-toe with Robert California, the enigmatic new CEO, who wants to turn the office into his personal playground. Developed for American Television by Primetime Emmyr Award winner Greg Daniels (Parks and Recreation, The Simpsons), watch all 24 episodes back-to-back in this 5-disc set, with outstanding bonus features including extended episodes, deleted scenes, webisodes, Football Championship promos and more!

Parks and Recreation: Season 4
The ever-enthusiastic Leslie Knope (Amy Poehler) has her sights set on the City Council, but political campaigns are never easy – Leslie must deal with shady journalists, a deep-pocketed opponent (guest star Paul Rudd), bus accidents, and even a still-smitten old flame in her quest to serve her beloved hometown. This Peabody Award-winning season features "TV's funniest ensemble cast" (Entertainment Weekly) and phenomenal guest stars.