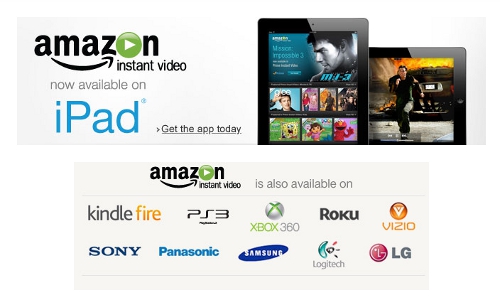 Amazon has announced that two new deals have been signed delivering even more content to their streaming service which offers selected content for free to Amazon Prime members.
The first is with EPIX which brings movies from Paramount, MGM, and Lionsgate. Specific recent films being added include Thor, Iron Man 2, Captain America, Transformers, Warrior, Super 8, True Grit, and Rango. 2000 movies from EPIX will be coming to Prime Instant Video this year. The second deal adds TV shows from NBC Universal which includes favorites like Friday Night Lights, Battlestar Galactica, Heroes, and Parks and Recreation.
Prime Instant Video now has over 25,000 movies and TV episodes to choose from which is quadruple the number that was available when the service launched in February 2011. Content can be watched on the PC, hundreds of connected TVs, Blu-ray players, set top boxes, mobile devices – along with the PS3 and Xbox 360. The Prime service costs $79 per year and features free 2-day shipping on all orders, Instant Video, and access to many Kindle books from the Owner's Lending Library.