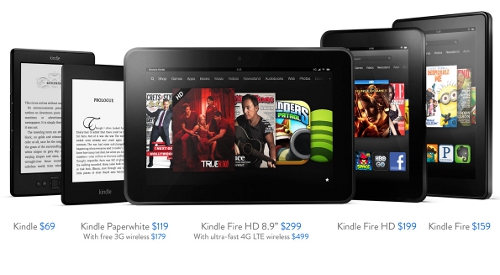 Amazon today debuted the upcoming refresh to their line of Kindle devices by revealing two new Kindle Fire HDs (one with 8.9 inch screen and the other 7 inch) and a new Kindle Paperwhite. You can check out the specifics on each device here.
The Kindle Fire capitalizes on Amazon's rich supply of content by streaming through Amazon Instant Video and having access to the humongous library of books – it's even better with the Amazon Prime service which offers up a bunch of movies and TV shows for free and the ability to "borrow" a book each month from the Lending Library.
I'm pretty content with my Nexus 7 but Amazon is doing great things to push the market into competitive territory. Their leveraging of their own content with the devices is what allows them to offer them at such great prices. In turn it's forced Google to put out their impressive Nexus 7 at a competitive price and even pushed Apple into rolling out a 7 inch tablet of their own soon.