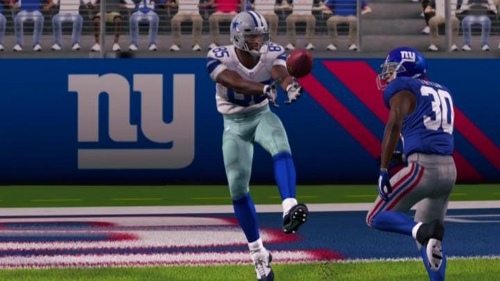 EA Sports today announced that record-setting sales numbers for the current generation of HD consoles have continued for Madden NFL 13 following a huge first day. In its first week 1.65 million copies of Madden 13 for the Xbox 360 and PS3 have been sold representing an 8% increase over the same period with Madden 12. 
It's a stronger turnout that anticipated, having increased from the 7% growth for day one to 8% for week one, suggesting the advancements made have resonated with consumers. Sales have become increasingly front-loaded and typically start slipping when comparing year-over-year after that first day. Improved reviews and generally good word of mouth have also surely contributed.
Of course that doesn't account for everyone as there is a vocal contingent expressing displeasure over particular features that were not included in Madden 13. That those people are upset isn't being discounted – it just doesn't seem to be affecting general perception of the product.
Early sales of a sports title are not necessarily a referendum on the current year's product. In many cases increases or decreases are more based on response to the previous year's title and the marketing push which has to convince consumers that there is a reason to buy beyond just updated rosters. In the case of Madden 13 that was achieved by coming off a year where Madden 12 was fairly well received, by introducing significant innovation with the "Infinity Engine" physics and Connected Careers mode, and with effective advertising that has capitalized on the physics and generated buzz thanks to featuring the duo of Ray Lewis and Paul Rudd.
Meanwhile NCAA Football 13 continues to suffer in the sales department. Down approximately 12% in its first month it has been crumbling even more since. Madden may have benefited some in sales because of the discontent towards and lack of advancement that came with NCAA 12 and 13. That series is in a significant amount of trouble.
Madden NFL 13 also drew a 31% increase in usage online with 24 million games played in the first week. On Labor Day an average of 3K games were started every minute. Daily average users have also increased 14 percent. All of those numbers shattered previous records for the franchise.