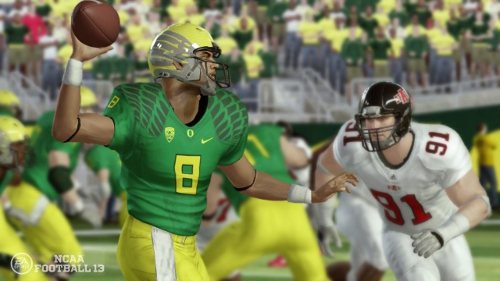 The Uniform Store for NCAA Football 13 arrived in last month's patch yet was made inaccessible as it was empty of content. Now EA Sports has opened it up, currently though limited to the Xbox 360, and is offering 23 new uniforms for download. All 23 are considered the defaults for their respective teams meaning they are provided for free. 
In the future any alternates that are added to the Uniform Store will offered at a cost and the first example of that is already available as well.
The teams included in the free pack of uniforms: Arizona, Arkansas, Eastern Michigan, FIU, Mississippi State, Missouri, Northwestern, Oregon, Rutgers, Texas A&M, and Washington.
Adidas Strategy Pack (80 MS Points = $1): Week one unis worn by Michigan and Notre Dame.
For now the Uniform Store is only open on the Xbox 360. The PS3 will get access to it beginning on September 18. Check out screenshots of all 23 new or updated free unis along with Michigan and Notre Dame's set in the FB Album or G+ Album.