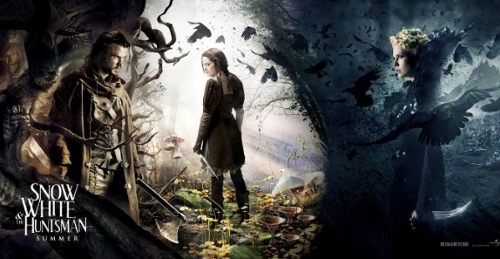 Snow White and the Huntsman
In the epic action-adventure Snow White & the Huntsman, Kristen Stewart (Twilight) plays the only person in the land fairer than the evil queen (Oscar winner Charlize Theron) who is out to destroy her. But what the wicked ruler never imagined is that the young woman threatening her reign has been training in the art of war with a huntsman (Chris Hemsworth, Thor) who was dispatched to kill her. Sam Claflin (Pirates of the Caribbean: On Stranger Tides) joins the cast as the prince long enchanted by Snow White's beauty and power.

What to Expect When You're Expecting
Inspired by the perennial bestseller, WHAT TO EXPECT WHEN YOU'RE EXPECTING is a hilarious and heartfelt comedy about five couples whose intertwined lives are turned upside down by the challenges of impending parenthood. The movie features lots of laughs, heart , and a terrific ensemble of actors at their best (Pete Hammond, Box Office Magazine) and is A must see! (Gayle King, O Magazine). The film stars Cameron Diaz, Jennifer Lopez, Elizabeth Banks, Chace Crawford, Brooklyn Decker, Anna Kendrick, Matthew Morrison, Dennis Quaid, Chris Rock, Rodrigo Santoro, Ben Falcone and Joe Manganiello.

For Greater Glory
What price would you pay for freedom? In the exhilarating action epic FOR GREATER GLORY an impassioned group of men and women each make the decision to risk it all for family, faith and the very future of their country, as the films adventure unfolds against the long-hidden, true story of the 1920s Cristero War ­the daring people's revolt that rocked 20th Century North America.

Barbie: The Princess and the Popstar
In this sparkling musical adventure, BarbieT stars as ToriT, the kind-hearted princess of Meribella who would rather sing and dance than perform her royal duties. When her favorite pop star KeiraT visits the kingdom, the girls discover they have much in common, including a magical secret that lets them look like one another. At first, swapping places seems like a great idea, until each girl realizes that the other's life isn't as easy as it seems! But Meribella also has a magical secret, and when it's stolen, the whole kingdom is put in danger. Will true friendship save the day? Filled with fantastic songs, fabulous fashions, and fun new friends, it's an exciting musical celebration that shows the best thing you can be is yourself!

Spartacus: Vengeance
10-episode sequel to "Spartacus: Blood & Sand." On the heels of the bloody escape from the House of Batiatus that concluded "Spartacus: Blood and Sand," the gladiator rebellion continues and begins to strike fear into the heart of the Roman Republic in "Spartacus: Vengeance." Gaius Claudius Glaber and his Roman troops are sent to Capua to crush the growing band of freed slaves that Spartacus leads before it can inflict further damage. Spartacus is presented the choice of satisfying his personal need for vengeance against the man who condemned his wife to slavery and eventual death or making the larger sacrifices necessary to keep his budding army from breaking apart. Containing all of the blood-soaked action, exotic sexuality, and villainy and heroism that has come to distinguish the series, the tale of Spartacus resumes in epic fashion. Includes tons of never-before-seen bonus features including featurettes, extended scenes and Content Too Risqué for CABLE TV.

The Big Bang Theory: Season 5
Regarding the opposite sex, they're on a steep learning curve. In every other sense, they're geniuses. Join physicists Leonard Hofstadter (Johnny Galecki) and Sheldon Cooper (Jim Parsons) as they ponder black holes, chemical deviations, girls, and other mysteries of the universe in all 24 phenomenally funny episode of the Season Five. With Penny (Kaley Cuoco) and Leonard's relationship in uncharted terrain, Sheldon, Howard (Simon Helberg), and Raj (Kunal Nayyar) discover that the feminine mystique is something that cannot be easily graphed or calculated. As they muddle through relationship "bugs" and romance re-launches, they also discover it's nothing a good roll of the D&D dice or a paintball tournament can't solve.

Castle: Season 4
She's armed. He's dangerous. Relive every exciting investigation with TV's most unlikely partners in crime! Own each episode and bring home even more Castle and Beckett with exclusive Bonus Features on ABC's Castle: The Complete Fourth Season on DVD.

Blue Bloods: Season 2
BLUE BLOODS is a drama about a multi-generational family of cops dedicated to New York City law enforcement.

Private Practice: Season 5
From the creators of Grey's Anatomy, comes the fifth season of ABC's sexy, medical drama, Private Practice. Addison and her Oceanside Wellness family are faced with new challenges as unexpected people enter and complicate their lives. From a sexy new doctor to an illegitimate son, the lives and loves of these doctors are put to the test. Bring home ABC's Private Practice: The Complete Fifth Season on and relive every memorable moment plus never-before-seen bonus features only on DVD.

The Vampire Diaries: Season 3
The sexy, sinister beings of The Vampire Diaries are back in a thrilling Season 3. As Stefan succumbs to Klaus, Damon and Elena join forces to try to save him, rekindling their long-repressed emotions. Meanwhile the door to the other side opens wide, allowing spirits to invade and come between Jeremy and Bonnie. Caroline and Tyler grow closer, pushing their families farther apart. But when the original vampire hunter and his kin arise from their caskets after 1,000 years, every hybrid, ghost, witch, vampire and werewolf of Mystic Falls had better beware.

30 Rock: Season 6
Primetime Emmy, SAG, Peabody and Golden Globe Award-winning comedy 30 Rock returns for more Korean dictators, mantra stealing, erotic normaling and plant children in its outrageous sixth season. Primetime Emmy Award winner Tina Fey is back as Liz Lemon, the struggling TGS writer who seems to have found a new groove along with M&M pancake-filled domestic bliss. But with GE executive Jack Donaghy (Primetime Emmy Award, Golden Globe, and SAG Award winner Alec Baldwin) scheming his way through KableTown, Tracy Jordan (Tracy Morgan) finding his voice as an idiot, Jenna Maroney (Jane Krakowski) taking her love life to new levels of extreme and NBC Page Kenneth Parcell (Jack McBrayer) being, well, Kenneth, will the chaos be too much for this new and improved Liz to handle? The hilarity continues with loads of exclusive bonus content in addition to 22 episodes of the critically acclaimed series from executive producer Lorne Michaels.