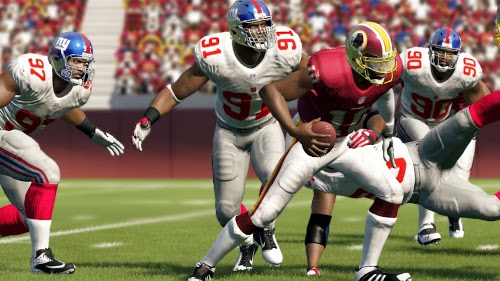 EA Sports has released some official details on the Wii U version of Madden NFL 13. Features unique to the Wii U include the ability to call plays and draw up hot routes right on the tablet controller while Connected Careers mode and the commentary duo of Jim Nantz and Phil Simms make the transition to the new console. The one glaring omission is the lack of the "Infinity Engine" physics system which debuted to generally positive response on the 360 and PS3.
The official release date – whether it'll be out on launch day of November 18 as most everyone would expect to be the case – has still not been announced.
Check out the latest screenshots of the Wii U version of Madden NFL 13 in the FB album or G+ album and continue on for some feature descriptions. 
With beautiful HD graphics, an in-depth Career mode, and exclusive Touch Screen features, Madden NFL 13 on Wii U delivers the most authentic NFL experience ever on a Nintendo platform. Build your own legacy as a player or a coach—or relive the glory of an all-time legend—in Connected Careers. Immerse yourself in the Madden NFL experience with features exclusive to Wii U, including streamlined playcalling, personnel management, and more—all directed from the innovate touch screen on the Wii U GamePad. Madden NFL 13—bringing next generation innovation, gameplay, and graphics to a Nintendo platform like never before.
Touch Screen Controls
Call plays, draw up Hot Routes, adjust defensive assignments and call audibles all using the built-in touch screen on the GamePad. Fans can also navigate the playbook, make substitutions and change personnel package all with simple taps and swipes of the touch screen.
Connected Careers
Create your own personal legacy as a player or coach or relive the storied career of a legend, with up to 32 friends per league. All this, plus a dynamic story engine, virtual Twitter feed populated by real-life media personalities, social integration and team management from PCs, tablets and smartphones, combines to create the first true sports RPG, encased in a fully connected universe that's on 24/7.
Next Gen Gameplay
With features new to the franchise like a completely redesigned passing game and the most intelligent pass defense to date, Madden NFL 13 on Wii U brings next gen gameplay and graphics straight to your living room like never before.
All-New Commentary
Every game has the feel of a nationally televised broadcast with CBS Sports commentators Jim Nantz and Phil Simms calling the action from the virtual 3D booth.
HD Graphics
With a living front end, dynamic in-game transitions, a live ticker, and drastically improved usability, Madden NFL 13 is game-changing from boot-up to credits.